Episode 19: Talking NFC, the new NOKIA 6212 handset, and killer apps with NOKIA's Damien Balsan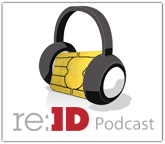 Nokia, a worldwide leader in Near Field Communications (NFC) technology, is launching a new 3G handset with embedded NFC called the 6212 Classic. Re:ID podcast host Chris Corum spoke with Damien Balsan, Nokia's Head of NFC Business Development for the Americas, about the new device. The two also explored NFC progress in the Americas, the impact of differing handset sales channels on regional rollout, and whether the 'killer application' will prove to be payment or something a bit more personal.
http://www.secureidnews.com/podcasts for older podcasts.