Episode 5: Examining the proposed DHS budget with editors Chris Corum and Zack Martin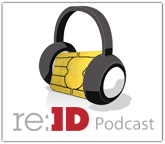 Executive Editor Chris Corum welcomes new Editor Zack Martin to the AVISIAN Team. They recap a DHS press conference that Zack attended at Chicago O'Hare International Airport regarding the DHS budget and what that means for federal ID programs such as US VISIT, WHTI, REAL ID, and TWIC. Chris and Zack also talk about the new 10 print mandate for US VISIT as well.
Please contact [email protected] with any comments or suggestions.
Click to view older podcasts.