Episode 99: Resilient Network details NSTIC pilot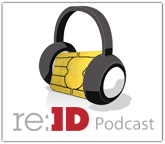 Resilient Network Systems is one of five companies that were awarded a grant to pilot part of the National Strategy for Trusted Identities in Cyberspace. Pat Reilly, executive vice president of business development at Resilient, spoke with Regarding ID's Gina Jordan about the award and what the company will be piloting with the award.
Resilient will be doing two projects, one around health care and another around child safety online. "How do I make it so that doctors, insurers and physicians know how to find the information about me from other doctors and labs, etc.," Reilly asks. "How does that whole chain of sharing happen across the health care field?"
"And then the second pain that we looked at was basically child safety, online safety. So how do you make sure that the identities of children aren't being misused, that people that purport themselves to be a child indeed are or are not a child and so taking all of that kind of nastiness out of the Internet," Reilly says.
| | | | |
| --- | --- | --- | --- |
| iTunes | Aggregator | m4a | mp3 |