European hotel guests get room keys on mobile phones thanks to NFC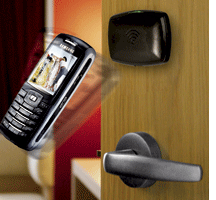 By Andy Williams, Contributing Editor
After a long flight, you arrive extremely tired at your hotel to find a line of people queued up at the front desk. Then you remember that you are an NFC user … you bypass the front desk and go straight to your room because you already know your room number and the key … in your cell phone.
This is already a reality – at least in pilot-form – in select European hotels and it's going to be introduced to American audiences soon. The solution is one more exciting capability of Near Field Communications (NFC) … in this iteration an NFC-enabled phone communicates with contactless door locks that are NFC-compatible.
If you don't have an NFC-capable phone, you can still take advantage of the contactless portion of the system using a contactless key card to open your hotel room door by just holding the card near the lock. But you lose the convenience of bypassing the front desk because you still have to pick up the key card.
The pilot of this new solution is made possible by ASSA ABLOY Hospitality, parent company of the technology's creator, VingCard. Other participants in the project include NXP (formerly Philips Semiconductors), and IBM.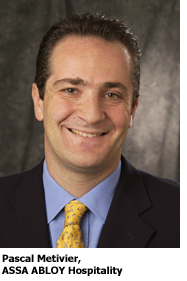 "In surveys made by hotel chains, when asked about areas of improvement, one of the things (travelers) don't like is checking in and checking out of the hotel," said Pascal Metivier, president of ASSA ABLOY Hospitality Europe/Middle East/Africa and Latin America. "The whole idea is how (to better) address the population that doesn't want to wait at the front desk."
VingCard, provider of electronic locking solutions for hotels, offers the access control system that goes into the hotel. It's RFID- and NFC-enabled. "What's not yet in place (except at the pilot hotels) is the ability for the hotel chain to send the room key to a cell phone," said Mr. Metivier.
How does the key get to the phone?
A guest makes a reservation at a hotel, either through his travel agent, by phone or via a web site like Hotels.com. "At a certain stage during the booking process, the guest will be offered the option of receiving an NFC room key," said Mr. Metivier.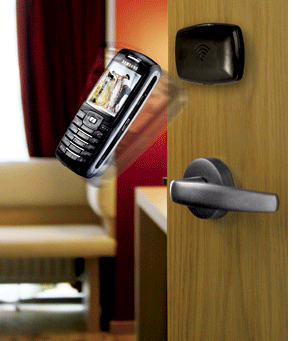 "If the guest accepts, a certain time before showing up at the property, the hotel will assign a room to the guest. Once the room is assigned, the system will send an SMS (short message system) message to the guest's phone that says something like 'You've been checked into room 606 and the hotel is located at this address,'" he continues. "You can also have GPS sent directing the guest to the hotel. Attached to the SMS is an encrypted file that will stay on the phone." It is this encrypted file that contains the room key.
The guest now can bypass the front desk and present his cell phone to the lock on room 606. The system can require a pin code for added security.
VingCard will demo the system at the International Hotel/Motel and Restaurant show in New York and the Equip´Hôtel event in Paris this fall.
"Our Door locks on hotel rooms are ready to speak to NFC-enabled phones," said Mr. Metivier. "The missing link is that the hotel chain needs to decide if it wants to offer that service to guests and to send room keys over the air."

Getting contactless door locks into hotels and NFC phones into traveler's hands
Another missing link is that there aren't enough NFC-enabled cell phones out there, but it's only a matter of time, believes Mr. Metivier. "You need a population of NFC cell phones, but they're coming out now. All the main providers are embedding NFC chips in their next generation cell phones."
One analyst, ABI Research, predicts that by 2010, 50% of cell phones in the world will be equipped with NFC chips. While other industry analysts suggest this prediction is overzealous, common sense suggests that frequent business travellers are likely to be early adopters of advanced mobile phones including those with NFC.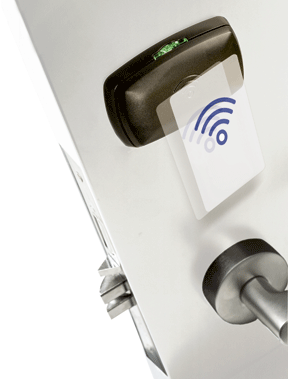 "The first step (for a hotel) is moving to door locks that will work with contactless key cards and NFC phones," said Mr. Metivier. "We see significant improvement in guest satisfaction. They no longer have to insert the card. With an aging population, that's appreciated by senior citizens because the contactless key card is easier to use."
Such a locking system would also be of major benefit to U.S. hotels, many with outside entrances to their rooms. "Hotels in the U.S. will buy more and more RFID locks," predicts Mr. Metivier. "About 50% of hotel rooms are in motels with outside doors. RFID technology brings a great advantage to these types of motels. They're more resistant to weather. Mag stripe readers are more sensitive to weather conditions," he added.
"Our RFID locks aren't limited to NFC phones or contactless cards. Wristbands, key fobs and paper tickets also can be used to open the door," he added. Obviously the wristband concept would be more conducive to ski or beach resorts.
VingCard worked with NXP in developing this program for the recently launched "Signature RFID by VingCard" which was first unveiled at The Hotel Show this year in Dubai.
Signature RFID by VingCard is an open-platform contactless RFID lock that is compatible with all the main ISO standards (ISO 14443 A-MIFARE, ISO 14443 B, ISO 15693) and also with the (NFC) cell phone platform.
With Signature RFID, only the reader and door handle are visible. Upgrading from Signature mag stripe or combo technology readers to RFID technology is done by replacing the reader unit and escutcheon only.
Reaction from guests in the pilot hotels? "They love it," said Mr. Metivier. For any frequent travelers that stay in hotels, that reaction seems obvious. Who wouldn't love it?
Near Field Communications News and Insight
Explore more developments dealing with the implementation of Near Field Communications, a short-range wireless technology that promises to revolutionize contactless identification, payment, access, and more.
Click to visit NFCNews
.