Fingerprint ID system assists investigations in China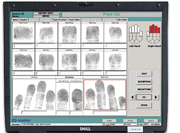 The Public Safety Authority in China's Anhui Province has made strides in its criminal investigations with the help of NEC Corporations' automated fingerprint identification system (AFIS).
The province's Public Safety Authority launched the NEC AFIS in March 2011. With the system, it's experience a tenfold increase in the hit rate on latent fingerprint inquiries.
This year the province led the ranks in an annual nationwide study that examines successful latent fingerprint identification from unresolved cases. Anhui Province had more than 1.5 times the number hits on latent prints from unresolved cases compared to other provinces.
The NEC AFIS system in Anhui Province consists of 2,300 units that have created a database of over 11 million registered fingerprints taken from arrested suspects and crime scenes. Its high-speed capability identifies a fingerprint in about 30 seconds, and the database can hold up to 50 million fingerprints.