First class lineup guarantees CardTech/SecurTech in San Fran will be time well spent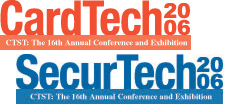 For a couple of years, it looked as if SecurTech was going to overtake the CardTech portion of the annual conference in terms of numbers of participants, but with last year's rollout of contactless payments by the big three card issuers, the pendulum is swinging the other way.
"It used to be we were split 50-50, now we're 70% financial, 30% security," said Bill Rutledge, program manager for SourceMedia which is producing the 16th annual CardTech/SecurTech Conference May 2-4 at the Moscone Center, San Francisco, Calif.
That's not to say security is playing second fiddle. Far from it. There is still plenty of both for participants. "I want to make it clear that we're not a credit card event or that we're just about biometrics. Everyone will find something and vendors (some 180 of them) will reach across sectors," he added.
This year's conference will likely to surpass last year's 3,500-plus attendance figure. "We're getting the same number of attendees on the security side, it's just the percentage that has changed," said Mr. Rutledge. "We're 30% ahead of where we were last year." Increased participation from the financial services sector accounts for much of that increase.
"What's different is that banks are all rolling out contactless cards, so everyone is aware of it," added Mr. Rutledge. "We're getting a lot of card associations and issuers to speak at the conference because we actually have programs out now."
Live interoperable biometric demonstrations
"We're doing a big focus on the fingerprint biometric standards," said Mr. Rutledge. "There will be a day-long focus on that, but we'll also be doing a fingerprint (and facial recognition) demonstration on the show floor. People will be issued cards and they'll be able to scan in their biometrics." They'll then be able to go to various vendors on the exhibit floor, scan their cards and see a first-hand demonstration of the interoperability of the vendor's hardware and software.
"It used to be that individual vendors had proprietary standards but now you can mix match hardware and software because they're all using the same templates," said Mr. Rutledge. "All fingerprint vendors will be demonstrating their ability to use an interoperable standard, not only for fingerprints, but facial recognition."
A workshop on "Biometrics for Access Security" will also take a close look at the current state of public acceptance of biometric technologies and how organizations are using biometrics to increase their security. The program will look at the various types of biometrics, including iris, finger, facial, hand and biometric fusion.
Two-factor authentication takes center stage
ID theft, a hot topic everywhere, will also receive a spotlight. "The FFIEC (Federal Financial Institutions Examination Council) is requiring two factor authentication next year for anyone doing online banking. What does that mean? Two passwords? A password and ID token?" said Mr. Rutledge.
A daylong session on Technologies and Strategies to Fight Fraud and ID Theft will delve into two-factor authentication and preventive measures banks and others can take to help their customers protect their identity and guard against phishing schemes and more. Stephen Malphrus, staff director for management with the Federal Reserve Board will discuss the two-factor authentication requirements. James Van Dyke, Javelin Strategy and Research, will lead this workshop.
"If someone is involved with ID tokens for transactions or security, (he or she) will find something here that will change the way they work," said Mr. Rutledge. "That kind of technology touches a lot of different applications."
Convergence remains key
Sessions on another hot topic, convergence of physical and IT access, will include "Project Planning and Large-Scale Security Strategy," led by Stephanie Dawson, manager, capital programs and technology services department, Port Authority of New York and New Jersey, and a case study on "Leveraging IP Networks for Security Convergence," featuring Cisco Systems' Bill Jacobs, corporate security systems manager.
NFC transitions from concept to reality
NFC (near field communication) is one of the hottest technologies on the scene and since last year's CTST, it has moved from a discussion topic to real world trials and pilots. "NFC is an emerging technology and the four major pilot programs will each have speakers at the conference," said Mr. Rutledge.
Led by AVISIAN publisher Jeff Staples, the daylong session will cover the soon-to-be ratified NFC standards and results from several NFC trials. Some of the presenters will include: Holger Kunkat, manager, Mobile Secure RFID Solutions for one of the NFC developers, Philips and chairman of the NFC Forum's Technical Committee: Bruno Charrat, CTO, INSIDE Contactless; Mohammad Khan, COO, ViVoTech; and John O'Malley, vice president, telecommunications, for Giesecke & Devrient.

Other features round out the event …
"We'll also have some great feature presenters," said Mr. Rutledge. These include: William Vass, CIO of Sun Microsystems, speaking on The Future of Java Card; Douglas Bergeron, CEO of Verifone on The Future of Secured Electronic Payments; and Bruce Schneier, founder and CTO, Counterpane Internet Security on Security: What Works, What Doesn't and Why.
Two keynote luncheon speakers include John Partridge, CEO of Inovant (the global IT arm of Visa) on Emerging Transaction Technologies, and Olivier Piou, Axalto CEO, who will discuss the role of card-based technologies in the evolution of digital identity security.
A dedicated Technology Pavilion will showcase biometrics, contactless, and NFC technologies. There will also be daily TechTours including guided tours of the exhibit floor in a particular product sector. With these great features, some 15 concurrent "track" sessions, and an exhibitor hall packed with 180 companies, the hardest decision by an attendee is going to be choosing where to go next.
For a complete agenda and registration and other information, visit CTST's web site.
Near Field Communications News and Insight
Explore more developments dealing with the implementation of Near Field Communications, a short-range wireless technology that promises to revolutionize contactless identification, payment, access, and more.
Click to visit NFCNews
.