First Data, Tyfone to launch MicroSD card for mobile payment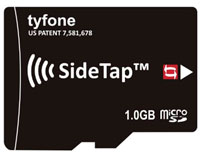 First Data Corporation is partnering with mobile contactless payment provider Tyfone to launch SideTap MicroSD memory cards designed to transform cell phones into mobile contactless payment devices.
The SideTap card, which works with any phone equipped with a memory card slot, can contain financial information and secure identification from multiple sources, such as specific retailers or financial institutions in both open-loop and closed-loop scenarios.
The card can also store photos, videos, music, documents, or other files, and features an embedded SmartMX security chip from NXP Semiconductors to protect transactions.
This means that users won't have to swap their regular memory card out for a mobile payment card every time they wish to make a contactless transaction.
According to First Data, analysts are predicting that over the next few years contactless payment via MicroSD will be used by more that 20 million people in North America alone.