First NFC store opens in Tokyo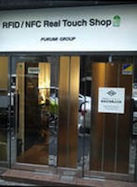 Japan's Fukumi Corporation has opened the world's first physical shop for NFC tags, applications, starter kits and printing and encoding services in Yaesu, Tokyo.
In addition to NFC hardware, the "RFID/NFC Real Touch Shop" offers NFC consulting and guidance services and enables customers to experience real-world NFC applications.
All NFC tags offered at Fukumi's store are provided by UPM RFID. Fukumi, a member of the UPM Pro RFID Alliance, has previously opened an online store providing HF, UHF and NFC tags from UPM as well as RFID hardware.
"Fukumi has been a member of the UPM Pro RFID Alliance since 2010, supplying UPM RFID products to various Japanese distribution companies," said Yoshihiro Fukumi, President of Fukumi Corporation. "With the real shop we aim to be the leading NFC player in the region offering a wide variety of high-quality NFC tags and inlays."
According to UPM, Fukumi expects the store to spur NFC adoption in the area, and is considering opening more shops in future.