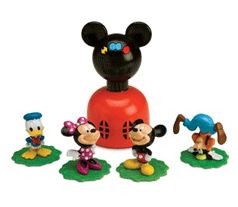 Disney has just released the new Mickey's Mouse-ke-TAG play set ($24.95) featuring RFID-enabled plastic figurines of Mickey and Minnie Mouse, Donald Duck and Goofy.
RFID microchips embedded in the figurines interact with a reader installed in the gang's hand held clubhouse, allowing children to play "tag" with their favorite Disney characters.
In a game of tag, the voice of one of the characters calls out descriptions of one of the other characters from a speaker in the clubhouse. The child then has to run and tag the right character with the clubhouse.
The descriptions are designed to help kids develop their spelling, color recognition and listening skills, and depending on how far apart the figurines are placed, the toy can offer some physical exercise.
The play set also features hide-and-seek treasure hunt mode and a memory building game.
Read more here