Four Winds Casinos deploys multi-property RFID uniform tracking system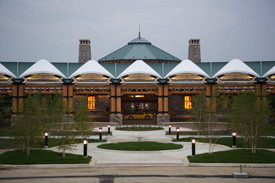 Four Winds Casino Resort has selected InvoTech Systems to implement its RFID multi-property uniform tracking system to consolidate uniform inventory, tracking and purchases at all of its properties.
The Michigan-based resort will use the InvoTech's RFID system together with White Conveyors' U-Pick-It delivery system to automatically deliver uniforms to employees' hands. InvoTech centrally tracks uniform use, controls inventories, monitors laundry cycles, and consolidates purchasing for more than 10,000 uniforms.
"We now have an accurate combined uniform inventory count for all properties on one database and can purchase in larger numbers to benefit from higher volume buys," said Jennifer Lasiewicz, Four Winds Casinos' vice president of hotel operations.
Four Winds Casino New Buffalo and Hartford properties already currently have the InvoTech system installed. The casino's new Dowagiac property, which opens later this year, is also expected to have an unmanned uniform room with the U-Pick-It system to automatically dispense uniforms with RFID tracking.