From the Great Wall to city buses, contactless is finding a home in China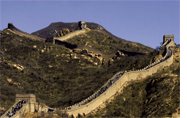 By Andy Williams, Contributing Editor, AVISIAN Publishing
With the Olympics coming to China in two years, the country is in the middle of upgrading many of its programs and much of its infrastructure, including access control, transit systems, and more. This – coupled with ongoing demands that occur as the world's most populous country rapidly modernizes – has the worldwide smart card industry scrambling to grab a piece of this potentially huge market opportunity.
Frost & Sullivan, a research company that provides growth consulting and corporate training solutions, has estimated the Asian and Pacific contactless smart card market to grow from 57.6 million units in 2003 to 453 million units in 2009 for a compounded annual growth rate of 41%.
One of the largest contactless chip providers in China is Philips. Its MIFARE technology is used primarily in transport in a wide range of Chinese cities, but it is also in use for access control at the Great Wall of China and a number of other locations.
Jason Hitipeuw, MIFARE marketing manager with Philips' contactless headquarters in Graz, Austria, estimates Philips has about an 80% share of the chip market in China.
"Philips has a dedicated market segment for automatic fare collections (AFC) and transportation because it's a perfect fit for our MIFARE portfolio," he said. "China is a big focus right now and is one of the most promising regions for contactless. China is simply a huge market for us."
MIFARE is used in more than 80 cities in China. The chips are sold to card manufacturers, which are then delivered to the system integrators who implement them in the system. Interestingly, said Mr. Hitipeuw, many of the cities are using local system integrators rather than the big international ones.
"The Chinese are definitely fast movers when it comes to contactless," he said.
"Philips has been in China since 1995 contactlessly," says Mr. Hitipeuw. "(Getting) contactless technology into the transport AFC systems (in China) was a lot easier than say Europe where you had older legacy magnetic stripe tickets and an existing infrastructure to deal with."
As far as multi-applications go, a few cities are combining their contactless transport cards with student ID cards and loyalty cards, "but not too much is being done on the payment side (because the) total infrastructure just isn't there yet," said Mr. Hitipeuw. He stresses that he believes contactless payment will be an important opportunity for Philips in the future, "the cities (using contactless) have a current view of adding more features, such as contactless payment."
The top 80 cities in China currently using MIFARE have at least a million residents or more. Mr. Hitipeuw estimates the number of chips that were issued in China in 2005 at 120 million.
Larger chips and multiple applications
The Beijing One Card, an automatic fare collection card, "is now using MIFARE 4k because it provides a little more functionality and can handle multi-applications easier," says Mr. Hitipeuu. There are now "up to eight million cards, mainly good on buses and the metro," he adds, suggesting that some 15 million cards are expected to be issued by 2007.
The latest city to use MIFARE is Nanjing. "It's the first city in China to go with our MIFARE DESFire chip, which is the next generation of MIFARE. It has an open triple-DES cryptology, it's faster and has 4k of memory," said the MIFARE marketing manager. As more cities migrate to contactless, or upgrade, he expects more projects in the Chinese market will move towards the newer, more secure chip.
What changes are the Olympics initiating? The country is aware "of how usable and convenient the public transport in Beijing is and how the transport operators make travel and mobility more comfortable and secure with the current MIFARE system," He said. "Any new infrastructure or new subway lines that are put in will also run on the MIFARE chip." China, he said, is also considering the prospect of using contactless tickets to control access to the Olympic events.

Contactless at the Great Wall
That's what the Great Wall of China, which attracts about four million visitors a year, is doing. It started using an e-ticketing system powered by MIFARE in 2004. "They were interested in what they could do to track visitors, how many visitors came to the Great Wall, etc," said Mr. Hitipeuw. The ticket could also serve as a souvenir. Chinese officials wanted to make access to the Great Wall more secure. "MIFARE was really a good choice," he added. Visitors take the one-time use paper ticket, touch it to the gate and walk in, he explained.
The e-ticketing system, which uses Philips' MIFARE UltraLight, was installed by the Beijing Municipal Administration and Communications Card Co. Ltd., which also handles the city's Beijing's One Card. That makes it compatible with Beijing's existing ticketing system.
Another up and coming application, geared for cell phones, is near field communication (NFC). "We're definitely in discussions with different mobile operators to introduce NFC as an add-on to the infrastructure that's already there," he said. "It's a great lead-in to contactless ticketing and is definitely the next push for us in China." While there are currently no China NFC projects that he could discuss, "I think you can expect to see some interesting news coming in the near future," he added.
Others seek opportunities as well
Philips is by no means the only international company that sees great opportunities in the world's most populous country. Many of the leading players in smart card and identity protection-related industries have established offices or joint ventures in the country. At the same time, Chinese smart card manufacturers such as EastCom Peace and Watchdata are working to capture the business in their own backyard. With so much at stake, the two short until the Beijing Olympics should be quite interesting to watch.
Near Field Communications News and Insight
Explore more developments dealing with the implementation of Near Field Communications, a short-range wireless technology that promises to revolutionize contactless identification, payment, access, and more.
Click to visit NFCNews
.