Fujitsu RFID utilized at Vancouver hotel for inventory monitoring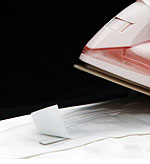 Fujitsu Frontech North America announced that the Fairmont Pacific Rim Hotel in Vancouver is using its new WT-A511 ultra high frequency RFID tags to more accurately manage its inventory of 10,000 employee uniforms and 25,000 bathrobes, towels, tablecloths, sheets and other linens.
The soft and flexible Fujitsu RFID tags are durable, able to withstand hundreds of washings, with the harsh chemicals associated with dry cleaning, temperatures of 250° F for drying and 400° F for ironing, along with the pressure of uniform pressing machines.
The Fujitsu flexible RFID tags are integrated into Fairmont Pacific Rim's uniforms and linens, which also interface with other various hotel data systems to provide a complete view of inventory for more efficient tracking and streamlined operations.
With the new system Fairmont Pacific Rim staff can quickly and accurately monitor its outgoing and incoming laundry, reducing the costs of replacing missing items and the operational costs associated with a manual tracking process.
The Fujitsu RFID tags are less than two inches long and when sewn or heat sealed into garments become virtually unnoticeable.