G&D launches NFC sticker for German banks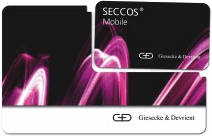 Giesecke & Devrient (G&D) has introduced an NFC-enabled sticker that enables German bank customers to make contactless payments with their existing mobile phones.
The mobile payments sticker runs on SECCOS (Secure Chip Card Operating System), the German banking industry system for smart cards. When attached to a cell phone or smart phone, the sticker enables users to make MasterCard PayPass-enabled contactless payments at over 350,000 PayPass locations worldwide.
According to G&D, all transactions made with the sticker are listed on the user's normal credit card bill. For payments up to 25 euros, no PIN or signature is required.
The first two banks to adopt the SECCOS sticker are Sparda-Bank Hamburg and Donner & Reuschel. G&D is working with systems integrator Deutsche Genossenschafts-Verlag to supply the new technology to the banks as part of a trial conducted by the cooperative financial group.
German customers can already use the sticker to make payments at a number of PayPass locations, including Aral, Vapiano, McDonald's, Thalia, Douglas, and Edeka.