G&D wins German health card contract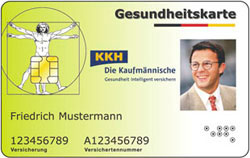 Giesecke & Devrient has won a contract from the German health insurer Kaufmännische Krankenkasse (KKH) and 28 corporate health insurance funds to manufacture and supply around 10 million electronic health care cards.
The contract includes optical and electronic personalization of the smart cards with data relating to the insured persons and their insurers. G&D will also begin deploying the new insurance cards to customers in January 2009.
The electronic health insurance card will store the policyholder's basic data, such as their name, address, date of birth and health insurance fund information, along with details of insurance coverage and the person's status regarding supplementary charges. A photo of the cardholder will be printed on the card as well to protect against misuse of the card.
The new smart card will in the first instance be used for electronic prescriptions and is already designed to store a qualified electronic signature that replaces the need for users to sign by hand. This feature would make it possible for holders of an electronic health care card to identify themselves to authorities in areas such as e-government applications.
Insured persons have the option of ordering a "PIN Home Package" from the KKH. This contains a special card reader and software for connection to a home PC. It enables insured persons to check their current basic data or emergency information voluntarily stored on the card at any time.