Gaming Gets Physical with RFID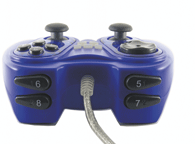 New generation of games use ID technologies to bridge gap to virtual environments
By Nate Ahearn, Contributing Editor
The days of gaming were once spent with crowded rooms of onlookers peering into a fluorescent screen being brought to life by millions of electrons firing down a tube. Over recent years the technology behind the playing field of video games has changed as smaller, thinner, and more visually defined displays emerged. But just as high-definition television sets have now started to work their way into the mainstream, a new way to experience video games has started, ever so slightly, to fall into the gaze of the tech savvy public. It's a way to play games that takes human interaction beyond pressing buttons or waving controllers at a screen, instead relying on direct human movements and locations to act as inputs. And identification technologies – barcodes, RFID, and smart cards – are making it possible.
Live action gaming for the physical world: Pac-Man and La Fuga go RFID
Pac-Man – a classic franchise that has been around nearly as long as video games themselves – recently made the transition to a new medium. A group called Mobile Radicals created a mixed reality game that uses mobile phones and RFID technology coupled with human bodies running around a playing field. The game is played almost identically to the classic formula with teams divided up into 'ghosts' and 'Pac-Men' (only in this game they're known as Pac-Lan, just to avoid any copyright issues). Situated on the field is a series of color-coded discs, each with its own unique RFID tag. Each Ghost and Pac-Man is uniquely identified by an RFID tag worn in the costume. Pac-Lan can also read the location of the ghosts in relation to the last pill that he collected, and just like the classic arcade game, the hero can collect power pills so he can hunt down and kill the ethereal stalkers who then have to restart at the center of the map.
A similar game has popped up across the pond, in Madrid, Spain. A company called Négone opened an interactive game called La Fuga (The Breakout) in which up to 300 participants dawn passive RFID tags (meaning that they don't require a power supply) and a PDA attached to a wrist strap. The objective of the game is to escape from a futuristic prison environment that contorts itself depending on player performance. As contestants move into different sections of the playing field their location is picked up by several RFID readers that tell the game system to spit out questions to the PDA on the player's wrist. Answer the questions correctly and the pathway continues to open up, doors popping open like something out of a new-age horror movie. Get out of the prison before time runs out and victory is yours.
Similar technologies are in fact nothing new to the realm of live action games. Laser tag games at local amusement parks have been using identification technologies for reload stations for some time. Players who run out of "bullets" have to run within the range of a reload station, and then press a button to recharge the ammunition. Each team has a separate reload station, and each gun has its own unique ID signature, making it possible for the station to differentiate between a friendly gun, and the gun of an enemy. But the level to which these new games rely on the ID technology is revolutionary.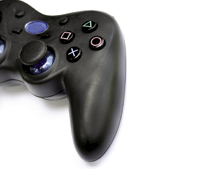 Video games systems test RFID for player ID and character interaction
In recent months, ID technology has increased its reach into the video game industry itself. During the spring Electronic Entertainment Expo, Sony Executive Phil Harrison showed the world a game called The Eye of Judgment that makes use of 'ID signatures' on the back of playing cards. Ken Watanabe, the mastermind behind nearly everything to do with Sony's Playstation, dubbed the signatures "Cyber Codes." They are actually 2D barcodes that interact with a standardized 3 x 3 playing surface and Sony's EyeToy (essentially a digital video camera) that reads the barcodes. As the cards move along the playing surface, the character that each represents mirrors those movements on the display screen.
In Japan, a number of arcade games have been using trading cards to dictate character movements and even to store a player's information so they can come back to the arcade and pick up where they left off.
But, arguably the largest step forward for RFID-based gaming is Mattel's announcement of their HyperScan console, a system that is totally based around radio frequency identification and the possibilities it affords users. The system is scheduled to ship for the 2006 holiday season, and should retail for around seventy dollars. Games will cost about ten dollars, and will come complete with six, RFID equipped, trading cards. Apparently each trading card is an active RFID tag, meaning that they have a standalone power source. Sadly that also means that each card has a limited number of hours of play. Mattel has been quoted as saying that the amount could range from 20 to 40 hours, depending on the specific use of the card.
Will RFID bring new appeal or simply hinder the gaming experience?
How will the games play, and how will they benefit from RFID technology? The HyperScan website indicates that the system will come with a fairly standard looking video game controller, while the RFID integration will come in the form of character cards. The website calls it "scanning in" whereby players will scan a character into the game and then be able to play as that character. The demo shown is an X-Men fighting game, where characters from the Marvel Comics universe are scanned into the system to do battle with one another. Chances are Mattel will have to come up with more inventive uses for the RFID aspect of the console, beyond what will likely seem little more than scanning a barcode. To truly make a noise in the already crowded gaming industry, the company that has traditionally been responsible for dozens of children's games will have to find a more innovative way to bring RFID to the masses.
There's no question that radio frequency identification has begun to work its way into the minds of game developers, but to truly become a viable additive to the games industry they'll have to think up truly creative uses for the technology beyond just storing information. It seems as though the arcade trading card games are the next logical step, with different movements and positions dictating the movement and position of characters on the screen. But will this be enough to make ID technology an integral part of gaming's future? Like so many things, only time will tell.
---
Additional resources:
Check out Pac-Lan.com
Visit the HyperScan Website