Gaming Partners International tapped for casino grand opening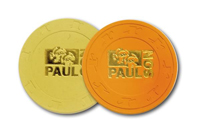 Gaming Partners International announced that it has completed delivery of its casino furniture, casino chips and associated gaming products for the opening of River City Casino, located in St. Louis, Missouri.
GPI provided the River City Casino with its associated table game equipment, which included GPI's Paulson line of gaming chips, as well as precision dice, table layouts, roulette wheels and table game accessories.
The company supplied all of the casino's gaming tables, as well as the pit podiums, security podiums and host podiums. All of the furniture was custom-built to accommodate River City's design and operational requirements.