Gemplus helps 'move the world' to EMV chip cards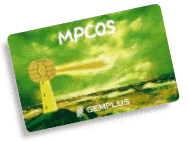 Gemplus has been working hard to capture a bigger share of the EMV migration card market and the efforts are paying off. In just four years, the company has gone from a 9% market share to 22%. It recently further shored up those statistics when it gained nine new customers in Asia Pacific, South America, and Europe.
The international consulting firm, Frost & Sullivan, even presented its 2004 Frost & Sullivan Competitive Strategy Leadership Award in recognition of Gemplus' gain in market share in the financial and loyalty smart card market. This, according to Frost & Sullivan, was the first time an award had been granted exclusively to a company's banking division.
"We indeed have worked very hard in the last four years to increase our market to 22%," said Justin D'Angelo, senior vice president, Financial Services Business Unit, for Gemplus.
"One of the large contributors to this success," said Mr. D'Angelo, "was Gemplus' strong presence around the world with standardized products and processes. Everywhere a key EMV project is launched, Gemplus is present through sales offices or a local partner. This gives us a strong advantage over our competitors who do not have the same consistent level of support across the globe."
The company's most recent series of successes involved nine more customers:
Sociedade Interbancária de Serviços (SIBS), Portugal;
Maybank, Malaysia; HSBC, Malaysia;
Akbank, Turkey;
Komercni Banka, Czech Republic;
Standard Chartered Bank, Malaysia;
Russian Standard Bank, Russia;
Vilniaus Bankas, Lithuania; and
Santander Santiago, Chile.
"Gemplus is providing smart cards to all of the nine issuers, and in some cases we are the exclusive card provider," said Mr. D'Angelo. "The operating system on the cards was also developed by Gemplus. In most cases, Gemplus did the embedding and for some of our clients we did the personalization."
He said all of the smart cards are EMV (the international standard for chip-based debit or credit cards established by Visa and MasterCard) compliant, either for debit or credit applications.
"Some of the cards have multi-application capabilities that combine loyalty and payment functionalities, as with Komercni Banka," he added. "The cards Gemplus is providing to Maybank and HSBC, for example, are based on Java Card technology. The project with Akbank is actually the first issuance of an EMV card for Akbank in Turkey, while the Russian Standard Bank implementation was the world's first delivery of new generation MasterCard chip cards, which is called M/Chip 4.0."
Specific quantities of cards, he said, have not been released, but "we can say that it is in the millions."
However, Gemplus did release figures for SIBS, which is owned by the Portuguese banks responsible for the development and introduction of technological solutions for the national payment system. Gemplus' contract for Portugal's EMV migration is for three years (it began in May) and involves the estimated delivery of six to eight million GemValue EMV cards to Portuguese banks.
In Malaysia, where Gemplus enjoys a market share of from 60 to 70%, the company is positioned to help Malaysian banks meet the mandate from the Central Malaysian Bank (Bank Negara Malaysia) to migrate all mag stripe cards to EMV chip cards by the end of the year.
Russian Standard will be able to add value for existing customers and attract new business by building extra applications onto these payment cards. The cards will enable point-of-sale debit or credit, pre-authorized debit payments, and secure offline debit transactions, Gemplus added.
But the company has been busy elsewhere as well. Last year, Gemplus won an EMV contract with the United Kingdom's leading banks to replace the magnetic stripe system on debit cards with some 40 million smart cards within the next two years. Gemplus also deployed the first EMV cards in France with Société Générale. The delivery of Java Cards to Banco do Brasil and a deal for multi-application EMV cards–in partnership with Toppan–with JCB International Co. Ltd., (Japan's largest card issuer), have further cemented Gemplus' global aspirations.
Who are the Gemplus competitors for these jobs?
"It depends on the region, as our competitors are not the same in all parts of the world," said Mr. D'Angelo. "For instance, in Germany we compete primarily with Giesecke & Devrient, whereas in Asia we compete with Axalto and some local suppliers. In Europe, our chief competitors are Axalto and Oberthur Card Systems. Out of all of the EMV card suppliers, Gemplus is the only company that is equally present on all continents."
He cites a couple reasons for the company's contract-winning successes.
"It should not be underestimated how much customer service plays into a business' success," said Mr. D'Angelo. "Gemplus pays a lot of attention to what our customers say and think about us. We routinely conduct rigorous market studies and customer surveys and involve our customers and prospects in the process of developing and validating our product roadmap."
"By doing this, we are constantly finding new ways to excel in execution to keep our customers happy. Customer responsiveness, on-time delivery, and operational efficiency are all part of this."
Another reason: "We believe our exposure to diverse programs in other regions has benefited our customers, allowing us to share advice with them on what worked and didn't work in other parts of the world."
Gemplus' 2003 revenue was 749 million Euros. The company's other applications for financial institutions include loyalty, online authentication, and e-purse.
---
Additional Resources:
Visit Gemplus on the Web at www.gemplus.com.
To download product literature on the company's EMV and banking offerings, click here.