German stadiums embed chips in 2006 World Cup tickets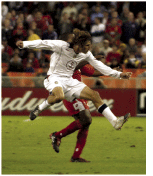 (This article originally appeared in a 2005 issue of RFIDOperations)
By Rhea Wessel, Contributing Editor, RFIDOperations
COLOGNE, Germany—The world's most popular sporting event will be RFID-enabled. The 2006 World Cup soccer tournament will feature RFID-based electronic admission tickets at the games' 12 German venues.
World Cup organizers announced last year that they wanted to install the admission control system by the end of 2004. It's not in place yet, so while the initiative appears to be behind schedule, at least one of the 12 stadiums in the tournament—Cologne's 1. FC Köln Rhein Energie Stadion—has taken matters into its own hands to be ready for the start of play.
Held every four years with teams from more than 140 countries participating, the World Cup tournament is the most important competition in international football (soccer). Organized by the Fédération Internationale de Football Association (FIFA), the sport's governing body, the tournament is the most widely viewed and followed sporting event in the world.
National teams compete over a two-year period in regional qualifying tournaments for a place in the finals. The next finals tournament begins in June 2006, with matches at stadiums in Berlin, Dortmund, Frankfurt, Gelsenkirchen, Hamburg, Hanover, Kaiserslautern, Cologne, Leipzig, Munich, Nuremberg and Stuttgart.
Royal Philips Electronics won a contract to provide many of the chips for the 3.2 million tickets that will be needed at those stadiums, according to tournament organizers.
Jens Grittner, a FIFA World Cup spokesman, says they considered a chip or a barcode solution to improve their control of access to the games. RFID-based chips were picked because of security and ease of use. The chips will make the hard-to-come-by tickets difficult to counterfeit and will help organizers keep people from passing on their tickets to others once they are inside the stadium. And tickets will be quickly and easily validated when held 10 centimeters in front of a proximity reader. FIFA says the chips will store access information only; personal information such as names will not be included.
"We decided on a chip-card admission system because we wanted to modernize stadiums participating in the games, and we sought a long-term way to do this. Starting in 2006, all Bundesliga [German soccer league] stadiums will also use electronic admission systems," said Grittner. For the World Cup games, chips will be embedded inside regular paper tickets that can be imprinted with sponsor logos and kept by fans as souvenirs.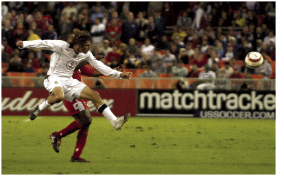 The AufSchalke Arena in Gelsenkirchen, which will host World Cup games, has been using electronic admission tickets since it opened in 2001. Thomas Spiegel, a spokesman for the stadium, says their system, based on a Siemens chip, has been well received by soccer fans. The entrance system at Gelsenkirchen will be adapted to read World Cup tickets, but work on the project has not yet begun. "A test run of the new technology has been announced but not started," Spiegel says.
Season ticket holders at Cologne's 1. FC Köln Rhein Energie Stadion began using credit-card sized and shaped plastic entrance tickets with a Philips MIFARE DESFire chip in August 2004. They are read with a MIFARE DESFire SAM ticketing interface. Among the reasons the stadium picked Philips was because it anticipated the decision of World Cup organizers to go with Philips, says Daniel Däuper, in the ticket management department of 1. FC Köln GmbH & Co.
For now, the system at Cologne is being used for access, planning and security. The cards speed up the entrance of fans and the data generated by the system is helping stadium operators make logistical adjustments. For instance, if they determine that a large number of fans tend to arrive at a particular entrance, organizers can post more security guards in that area. Already it appears that a southern entrance to the stadium that is near the area where fans stand rather than sit is a favored entrance.
FC Köln also benefits from extra security for the cardholders, said Markus Luidolt, Philips marketing manager for event ticketing. Each card is unique and if it is lost or stolen, operators can block the card and replace it.
The Philips chips are fully compatible with ISO 14443 type A. They are also compatible with Near Field Communications (NFC) technology, which allows people to download electronic tickets to their mobile devices and use the mobile devices to enter a venue. Philips and Sony have jointly developed an NFC solution.
The Cologne system investment was a six-figure investment and is designed to supply payment functions that will eventually boost revenues in fan shops and at concession stands, Däuper says. The electronic payment function is planned for the next season.
"Some people say sales could rise 10%, others say they could rise 40% to 50%," Däuper said, because fans tend to spend more when they don't have to pay with cash for their drinks and souvenirs.
The system was implemented with a host of service providers. It was purchased through Novo GmbH in Bonn and Bonn-based T-Systems, part of the Deutsche Telekom family, helped with the integration. SportFive Tixx, a software company in Hamburg, also participated. Card readers and software were provided by Axcess, a ticketing technology company based in Salzburg, Austria.
The readers can validate tickets with bar codes or chips. According to Däuper, those implementing the system encountered few problems with the chips. Work on the project began in February and was completed by June. Some software problems arose when data from some chips was transferred to new chips. During the games, an occasional card was unreadable because it was damaged by a fan. Those season ticket holders then took their cards to a service point where information was validated.
Near Field Communications News and Insight
Explore more developments dealing with the implementation of Near Field Communications, a short-range wireless technology that promises to revolutionize contactless identification, payment, access, and more.
Click to visit NFCNews
.