Gerry Weber taps Nordic ID for international, chain-wide RFID project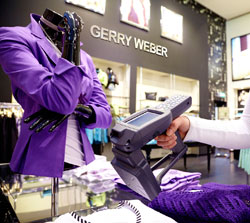 Gerry Weber, an international clothing manufacturer headquartered in Germany, recently selected Nordic ID and its PL3000 ultra-high frequency RFID cross dipole handheld computer.
In the international, chain-wide RFID project, the Nordic RFID handhelds will be primarily used for goods receiving and inventory management, at approximately 150 stores in Germany and throughout Europe.
Inventory, which use to take two days to complete, is anticipated to take 10 minutes after the rollout of the project, say Gerry Weber officials.
The PL3000 cross dipole readers are capable of reading tags both vertically and horizontally, up to four feet away, even through closed boxes. This comes in handy when tagged goods, in individual boxes, are transported in bulk on pallets.