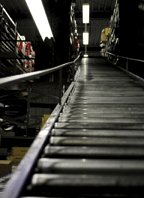 Retailers, vendors taking systems integrators seriously to move beyond mass-market RFID mandates
By Marisa Torrieri, Contributing Editor
To date, the RFID requirements issued by a handful of mass-market retailers' have been met primarily via 'slap and ship,' smacking a tag on a box and calling it 'RFID Compliant.' But thanks to the release of the EPC/Global Gen 2 RFID standard and increasing availability of interoperable RFID components, that's starting to change.
Retail suppliers of all sizes appear to finally be moving beyond 'slap and ship.' Instead of investing in the minimum amount of technology possible to comply with the RFID demands from Wal-Mart and others, companies are taking the next step determining how to use RFID in a more integrated fashion to create a true return on investment (ROI) – both in supply chain and closed-loop operations.
For the companies looking to upgrade their existing system beyond readers, tags and printers, a number of RFID systems integrators such as Bearing Point and Xterprise are combining individual RFID parts, like readers and printers, with software, hardware, consulting and management. Likewise, the majority of RFID component vendors who make chips, inlays, readers, antennas and software have strategies in place that require support from technology partners, reseller relationships and distribution channels.
Compared with the 'slap and ship' approach, the full-systems-integration approach "takes a village" to accomplish, says Bill Allen, director of strategic alliances for Texas Instruments RFID Systems. The Dallas-based company's RFID branch makes chips, transponders and other technology for several mediums (such as credit cards, supply chain technologies and anti-theft devices for cars).
"It's a fairly complex system to extract benefits," says Mr. Allen. "It's not something that you just plug and play. If you enter into the implementation process with an attitude that it's going to be easy you're going to get yourself into real trouble."
Entire systems integration is a bit more cumbersome of a process, involving the integration of readers, tags and printers with back-end hardware and software. While just about everyone is looking at long-term ROI rather than simply meeting a mandate the big players such as Kimberly Clarke and Proctor and Gamble have recognized it quicker and are able to make the systems integration investments earlier than most smaller companies, Mr. Allen says. The bigger companies, too, are more likely to be able to afford the high cost of full-scale, systems integration than their smaller counterparts.
Integrators see opportunities grow as market moves beyond 'slap and ship'
Carrollton, Texas-based Xterprise, a four-year-old RFID systems integrator that works with companies of all sizes to get RFID up and running, has enjoyed a "250 percent" increase in business over the last two years, according to Steven Hall, Xterprise's Senior Vice President of Global Sales. While most clients are simply interested in the 'slap and ship' approach, the increasing number of RFID-enabled distribution centers and retail outlets has spiked interest in more sophisticated solutions.
Of the 30 clients for whom Xterprise has installed 'turnkey RFID solutions,' seven have gone from basic 'slap and ship' to automated systems that can handle the increasing number of products that need to be tagged and sent to distribution centers. More and more, potential clients are asking about RFID systems that involve integrating the technology with a company's own ERP and WMS systems.
For most manufacturers that supply retail outlets such as Wal-Mart, Mr. Hall says, "the volumes that they have to ship right now is small because the number of stores equipped to read RFID are small."
But because Wal-Mart is reportedly doubling the size of its RFID-based distribution centers, companies may need to double, triple or quadruple the number of cases they ship to the mass-market retailer.
"So the question is," suggests Mr. Hall, "can my simple slap and ship solution scale to meet those volumes?"

Utilizing the collected data will determine the true value of RFID
Next on the horizon: a "retail analytics" RFID system that Xterprise will begin testing in April with one of its clients. Products will be tagged and shipped through an automated process. Additionally, a sophisticated software system will allow a company to track product transactions between various distribution centers and showroom floors. The new system will include a user-friendly graphical interface that presents the data in a readable manner, telling the company, for example, how many promotional SKUs were sent out on a particular date, how long they sat in the distribution center, and how long they sat in the back of the store before making it to the sales floor.
"You can see all the statistics to see how long it takes your product to reach the sales floor," Mr. Hall says. "It's like sending out a group of people to audit the back offices of Wal-Mart to make sure my products are on display. It's also going to tell me how well these products are moving in my stores."
Still, for companies wanting to beef up their RFID, concerns are more likely to go beyond simple product comparison.
"The transitory near term to long term challenge within the context of budget constraints is imposing and often underestimated," says Erik Michielsen, director, RFID and M2M at Oyster Bay, N.Y.-based ABI Research. "Setting goals and mapping RFID deployments and resources to meet these goals is an important fundamental step that is often voiced but, unfortunately, not always well-executed."
The biggest challenge, says Mr. Michielsen, is, "how do you balance near-term and long term with the money and resources you have available?" And the next big question, he suggests, "plays into how an RFID solution impacts IT planning and resource allotment."
It seems we still have a long way to go before slap and ship is truly replaced by fully integrated, enterprise wide RFID solutions. But this positive trend toward ROI-focused programs rather than simple mandate compliance, will help both the RFID industry and the supply chain to better define the true potential of the technology.