Giesecke & Devrient: It's a family affair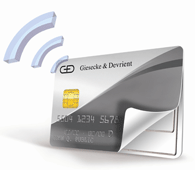 Company takes pride in its 155-year history, as well as its bright future
By Andy Williams Contributing Editor
G&D prides itself on being the world's number two producer of smart cards. But G&D is about more than just smart cards. For one, its genealogy dates back to 1852 when two men first created the company. For another, it prints banknotes, a lot of them for a lot of countries throughout the world. And for many, like the Federal Reserve in the U.S., it delivers the systems used to count and sort those banknotes and to weed out counterfeits.
But probably the most unusual element about the 155-year old company with offices spread throughout the world is this: You won't find it on any stock exchange. It's privately held, owned by one woman who is a direct descendant of one of the company's founders.
G&D began June 1, 1852 when 21-year-old Hermann F. Giesecke (1831-1900) and Alphonse Devrient (1821-1878), then 31 came together to create Giesecke & Devrient.
According to the company's history, it started in Leipzig and within a short period, the partners had developed it into a leading money-maker – literally – thanks to some groundbreaking inventions in Guillochier, anti-counterfeiting, and printing technology.
One of the descendants of the Devrient family line was Jutta Devrient who married Siegfried Otto. G&D's current owner, Verena von Mitschke-Collande, is a daughter from this marriage. Coincidentally, it was Otto, a former Russian prisoner of war who was the son-in-law of the last G&D chairman, Ludwig Devrient, who brought G&D back from near oblivion after World War II. When it appeared the Soviets might be assuming control of the company, Otto moved the company from Leipzig to Munich and initially set it up in an attic.
Unlike the company's founders, Otto did not even have access to a printing press. But he displayed an incredible talent for improvisation. He and his employees first acquired the contracts and then obtained the equipment needed to fulfill them. Six months later, contracts in hand, "operations commenced in a building at Munich's Riem airport. It was here, with a total workforce of 28, that the foundations were laid for an international high-tech company."
Today, while G&D still prints banknotes and produces banknote-processing systems, it has branched out into many other industries – it has 53 subsidiaries and offices around the world – it refers to itself as an "international technology group."
By the end of 2006, the Munich-based company had roughly 8,300 employees, approximately 4,900 of them outside Germany with revenues totaling nearly 1.3 billion euros, about U.S.$1.9 billion. For comparison, G&D had 4,254 employees generating revenues of 676 million euros, $979 million, 10 years earlier.
A five-member management board, which includes chairman and CEO Karsten Ottenberg, run the company. Three of the board slots are filled by the men who operate each of the company's three business units: Michael Kuemmerle, Cards and Services; Hans Wolfgang Kunz, Government Solutions; and Walter Schlebusch, Banknote. The fifth is its CFO and director of labor relations, Peter Zattler.
"It's somewhat fascinating to have this family ownership over such a long period of time," commented Kuemmerle, whose Cards and Services unit includes payment cards, SIM cards and now, Near Field Communications.
While banknote printing and processing has been G&D's bread and butter over those 150-plus years – the company now prints banknotes for some 80 countries – when credit cards, or as Kuemmerle calls them, "plastic money," first made their wide-spread appearance in the 1970s, it only made sense for G&D to investigate it as a new source of business.
"As we are a printer of physical money, we looked at virtual money. The result was an upcoming market of interest to G&D," he says. "Basically we supply, as a global leader, the major banks worldwide. We're present in 53 countries, including the U.S."
One of the areas G&D was instrumental in developing was the Eurocheque Card in the late 1960s that was linked to a person's checking account. "If you wanted to write a check, you first had to show your Eurocheque Card," says Kuemmerle of this precursor to the debit card.
"It's still the brand uppermost in people's minds in Germany," he adds. "Even today, if you go into a retail store, the cashier might still ask if you want to pay with your EC Card. It's a real brand name that has been internalized in the population's mind. That's what we're still producing but it's being treated as a debit card."

Identity documents and more
Kunz's areas of oversight include ePassports and identity documents. His government solutions business unit covers both government ID cards and security solutions for those countries G&D services.
G&D is involved in numerous projects spanning the globe. "In Ontario, Canada we're producing health cards and driver licenses. We produce chip-based passports for Macedonia, a project including electronic passports, ID cards and driver licenses."
"Then," he adds, "we have other countries like Egypt where we're supplying 53 million secure national ID cards. We have set up a factory there for card production and personalization. In Taiwan, we were the first company to supply a health card with a chip. We've also supplied the Austrian and German health card systems with chip-based cards. In the transit area, we have customers around the world, for example the Washington D.C. Metro. And we are supplying contactless transit tickets for London and Beijing."
He adds: "In addition to this we provide consultancy for countries about security issues and public key infrastructures – for digital signatures – besides printing security documents, government checks, stock certificates and other certificates of important value that need to be very secure so they can't be altered."
One company, which Kunz oversees, is Secunet Security Networks, a German IT company in which G&D holds a majority stake. It has a primary role in many of these projects. "Secunet offers high level security systems, especially for governments including software with cryptographic technologies and secure networks," explained Kunz.
G&D also is actively looking at the driver licenses markets. "Right now, we're actively promoting our driver license products internationally," Kunz says.
The U.S. driver license market holds particular appeal to the company as states investigate new technologies, adds Steve Reber, CEO of G&D North America (GDAI), Dulles, Va.
G&D's North American office was established in 1990, initially to sell, produce, and support banknote-processing systems for its North American central bank customers. "We supply the high speed systems to the Federal Reserve that sorts banknotes that come in from banks, finds bills that need to be removed from circulation or to determine if any of the bills are counterfeit," says Reber. " These high-speed recognition systems can sort 40 notes a second, then strap the notes."
In the mid-1990s, G&D's U.S. division expanded to include cards and card systems. In 1997 the company acquired Cardtech, a card manufacturing company in Twinsburg, Ohio. Its offerings now include solutions for governments and government agencies, wireless operators, financial institutions, the health care industry, protected access, electronic identification and public key infrastructures. During this same period, GDAI began offering its banknote processing systems and solutions to the commercial banking, transit, armored carriers and casino markets to verifying deposits and count money.
In December 1999, GDAI opened its new 134,500 square foot production facility in Dulles. In 2006, GDAI and G&D Cardtech were merged to form Giesecke & Devrient America Inc., and is now one of the G&D Group's largest subsidiaries.
One market the company isn't going after is the U.S. government ID programs mandated by HSPD-12. "At the moment, we do not focus on the government ID programs" because of the ever changing regulations. "We decided to focus on other parts of the business – transit, payment cards, credit, debit, gift cards, driver licenses and telecommunication, providing SIM cards for GSM phones," says Reber.
In dollar terms, the U.S. company has been rapidly growing, he says. One of the company's bigger markets is transit cards, which are produced at the Twinsburg plant. "We're a leading supplier of contactless transit cards in the U.S.," he says. "That market has been growing, as more and more cities move in that direction."
Actively working with NFC
With Near Field Communications, a technology invented by Sony and NXP Semiconductors, slowly beginning to make itself heard, G&D has also positioned itself to be a major player in that field as well. It's a member of the NFC Forum, an organization designed to encourage the technology's deployment, and offers several products and services to the ecosystems, such as NFC-enabled SIM cards, secure flash cards to be used as a secure storage medium in handsets, and the development and installation of security-sensitive applications, for example mobile payment applications.
Key to that latter area is a joint venture G&D entered into with cell phone manufacturer Nokia. The company is called Venyon and its purpose is to develop and operate a secure service platform for the over the air (OTA) transmissions of applications, such as credit cards and transport tickets to consumers' NFC-compliant mobile devices.
Venyon is the company that will load security-sensitive NFC-applications, such as for mobile payment or ticketing, over the air securely, adds Kuemmerle. The reasoning behind this is simple. "We must make sure when we load a credit card applet onto an NFC cell phone, it actually ends up on your phone and that we can verify that it did. G&D is very well prepared for this because we're coming at it from a security technology prospective."
The Turkey project is a case in point. Mobile provider Turkcell and Garanti Bank have launched an NFC trial for mobile payments involving a contactless MasterCard PayPass credit card application stored on an NFC-enabled SIM card provided by G&D. Venyon is handling the secure uploading and administration of the payment function over the air.
"We are bullish about NFC. We're seeing a big market potential and we're always looking to be at the cutting edge," says Kuemmerle.
"NFC is the technology that merges identification, banking and transit applications in the mobile device," he adds. "These markets are converging. Our stakes in this market are very important assets, in that we are a trusted partner for secure downloads over the air and for providing a secure platform for sensitive NFC applications. In a nutshell, we're working on different architectures for this secure platform, whether SIM-based, embedded or removable. We are basically providing all the architectures to serve an emerging market."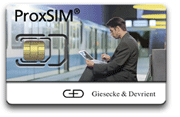 Innovations help G&D continue to grow
With security at the forefront of G&D's worldwide business, it's not surprising that most of its major developments have been in this area.
"One very important innovation we developed is a laser protected image," says Kunz. Many photos produced today are done with inkjet printers or other technologies "which are easy to counterfeit. But the laser technology has a big advantage. The information is burned into multiple layers of the card. We can actually improve the security of a color photo on the card in such a way so we can see if someone has tried to alter a photo."
As he further explained, the laser-protected image combines the high security of laser technology with the optical advantages of color photos. The image is broken down into grey and color components. The color components are applied in a thermotransfer process on the card body, after which the grey scale components are adds in perfect register by laser. A counterfeiter can try to manipulate the colors, but not the laser-burned part of the image. "You could see immediately that someone has tried to alter the photo," says Kunz.
Another G&D innovation is the material used to produce cards, particularly identity cards. "Polycarbonate, which is used for many cards, is a reliable material but it's not very flexible," says Kunz. "G&D has now developed a unique material that combines the long life attributes of polycarbonate and the flexibility of PETG. By combining both materials the physical characteristics of the final card can be adjusted according to the specific requirements."
Another development from G&D is in the way antennas are applied on contactless cards. Normally the antenna is actually wired to the contactless chip, but G&D developed conductive ink that can serve as a printed antenna – which means it won't break – thus severing the connection with the chip. "We've industrialized this technique for cards and passports," says Kunz.
The retail area is another market G&D is exploring. "One of the newest things we're doing in banknote processing is getting into the retail market with cash handling equipment," adds GDAI's Reber. "This is equipment that would be in the cash room in a store."
He adds: "There is also a general movement towards self-service terminals for ordering and cash payments. We can extend this to restaurants." For example, a customer could go into a fast food establishment, choose his order from a kiosk and pay for it there. Similar systems, although not necessarily produced by GDAI, are already in use at a few college campuses.
While some – primarily contactless card makers – are pointing towards the day when cash may no longer be needed, the reality is that the amount of cash in circulation has actually been increasing "about 3% or 4% a year," says Reber. "Checks have been in decline also in the U.S., but I think when we get to the point where people start using their NFC phones, this could be an interesting payment method for small amounts" and could lead to a decline in cash usage.
Adds Kuemmerle: "We see definitely a dynamic and growing market here in payments, not only in transitioning from magnetic stripe to EMV, but especially for contactless and dual interface payment cards. And in the telecom area, there will continue to be a strong demand for SIM cards worldwide."
As to the NFC market, "there are a couple of hurdles that have to be overcome, such as the need to standardize the ecosystem to get the market started," he adds. "We expect the first significant move of the NFC market in 2008 and then a gradual growth over the years to come."
A flooded SIM market
One of the things SIM manufacturers have had to face over the past couple of years is the demand for low-cost SIMs from emerging markets such as China and India. "The dramatic price erosion for SIM cards seen in 2006 leveled off in 2007, but it is hard to predict what the future will bring," says Reber. "Anyway, G&D is carefully looking after its cost structure and therefore can offer suitable products for each market requirement at competitive prices."
"We believe you will always have a low-end market for SIM cards, but you need to develop a high-end one to give mobile operators more opportunities," says Kunz. In other words, he adds, in the future, manufacturers won't just be selling SIM cards, but offering value-added SIM-based services.
The future
"In the future the security of the SIM card will have an important role because mobile phone customers are going to use more and more applications beyond normal telephoning," says Kunz.
There will also be increased demand for secure identity cards. "We're going to have new national ID cards in Germany with a chip and this national ID card should not be composed of a lower technology than what's on our current electronic passport," he adds. "We already have developed the technologies required to participate in this market."
That sort of "can do" spirit, which began for G&D in those gloomy post-World War II days when Siegfried Otto first took firm hold of the company's reins, continues to this day. But one wonders if Otto would even recognize what he fought so hard to revitalize. Obviously that small 28-employee strong company has achieved a success that even he could not have imagined.