Group working on open standards for transit cards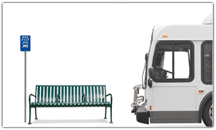 By Autumn C. Giusti, Contributing Editor, AVISIAN Publications
Imagine jet-setting from L.A. to Boston to Paris, catching the subway in all three cities, and only having to buy a single transit pass to get around. If four smart card powerhouses achieve their goal, this could one day be the reality for transit users.
In January, smart card manufacturers Giesecke & Devrient and Oberthur Technologies and chip suppliers Infineon Technologies and INSIDE Contactless launched an initiative to develop a new secure solution for next-generation smart card-based public transport applications.
The solution would be built on an open-standard system the four companies are implementing, but an independent body would eventually govern it. Despite some of the companies being competitors, the partners say they formed the initiative because they need each other's expertise to attain a fully interoperable system.
"We decided that to be successful, you needed to have a group of partners with different proficiencies," said Werner Koele, marketing manager for the Personal and Object ID business line of Infineon, the company that spearheaded the initiative.
And the group is poised to add more partners. While Koele wouldn't disclose names, he said the four companies are in discussions with other major players that could join the initiative in the coming weeks and months.
Transit evolution
In 2009, Infineon undertook a market analysis that identified several changes underfoot in the transport market.
Talks with transport agencies revealed that in the coming years, the market will split into low-, medium- and high-end applications, ranging from paper tickets on the low end to high-end solutions such as NFC or multi-application cards combining citizen services or payment. Contactless credit cards are getting more attention, and proprietary, closed-loop products have their own set of problems, according to Infineon.
At the same time, the public transit sector is expected to grow dramatically in the next 20 to 30 years, with governments worldwide spending large amounts of money on infrastructure. The biggest demand for projects will come from mega cities with populations of 5 million to 20 million, for which an open standard system would be well-suited, said Roland Magiera, adviser of Transit Segment Marketing, Government Solutions for Giesecke & Devrient. "We think this (system) will be a higher value for the transit authorities and for the customers," he said.
The initiative touts vendor independence, increased vendor choice, interoperability and cost savings among the benefits to transit operators.
The fact that there have been several public transit pilot programs involving NFC and payment cards shows that the technical dynamic is possible for an open-standard system, Magiera said.
"We think that new technology with an open standard could be very helpful for the industry and development," Magiera said. "This is the main reason we've joined the initiative and are speaking with the other companies."
Security benefits
After completing its market analysis last year, Infineon determined that the best course of action would be to get away from a proprietary, closed-loop system in favor of a more modern, open standard system that would allow for multiple companies and technologies.
One argument for the open standard is that proprietary products are seen as security risk. Magiera cites the 2008 security breach of NXP Semiconductors' Mifare Classic, a proprietary chip commonly used extensively in transit passes and access control badges. The breach made it possible for someone to clone the chip.
Part of the initiative's goal is to develop a unified security concept as the common base for a variety of products, according to Infineon. This concept is based on groundwork performed by Infineon, which developed a hardware-based security system specifically suited for public transportation smart card applications. It consists of an authentication scheme using the open and well-accepted Advanced Encryption Standard, which can be implemented in low-cost silicon.
"We believe that AES is the best for this market. It is well defined and proven," Koele said.
Although the security concept and mandatory file types will remain the same, vendors will be able to differentiate their products from each other by offering additional features and better performance, according to Infineon.
"The goal is to come up with products that are interoperable, so different products can be used in the same system," Koele said.
For instance, even though Infineon and INSIDE Contactless have different chips, either would work in the same system.
Need for collaboration
The looming logistical challenge the initiative faces will be to get the various transit agencies around the globe to cooperate so they will all be using the same system.
Transport agencies have the prime intention of bringing users from Point A to Point B, and payment and ticketing concerns are secondary, Koele said. By nature of being government-run, the agencies are driven by a slow, politically driven decision-making process on such matters.
"There are too many players in the market, and they have to align internally," Koele said of the transit agencies. "Our standard for public transport could be the basis for such a scheme. And that's the intention we have."
The first cities are expected to run pilots using the initiative's open system a year from now. The initiative is eyeing about three dozen cities for deployment. The system would take another three to five years to implement with widespread deployment in the next 10 to 15 years, Koele said.