GSA handles PIV card issuance for 40 agencies, seeks new vendor for managed services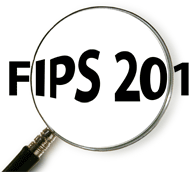 By Chris Corum, Editor
The Government Services Administration (GSA) was instrumental in the federal agencies' successful compliance with last year's October 27 deadline for PIV card issuance. That is because the GSA's HSPD-12 Managed Services Office (MSO) actually issued the cards for 39 contracted agencies. It is outsourcing at the federal level–agencies heads not wishing to handle their card issuance and HSPD-12 compliance internally can hire an outside entity to do it for them. And that is precisely what the MSO is there for.
"We (now) have 40 customer agencies on board and we have a current user count of 420,000," said Steve Duncan, GSA.
Back in August 2006, GSA awarded a contract to BearingPoint to service the MSO in its efforts to provide PIV card planning, enrollment, issuance, and service to agency clients. The option to continue the contract, however, was not exercised when it came up for review on January 7.
"We made an initial procurement of cards back in August … for our 39 client agencies," explained Mr. Duncan. "We decided not to exercise the option for that procurement (but rather) to do another one." (Lockheed Martin, EDS and Xtec had filed protest against the BearingPoint award with the Government Accountability Office but it became moot when the MSO decided to voluntarily end the contract.)
The new request for quotation (RFQ) was released on January 12. "We have defined 141 requirements … and 61 are critical and the vendors are going to have to show them to us in an operational capabilities demonstration. These demonstrations will begin two weeks after the February 2 due date for price proposals.
This demonstration will be no small task for the selected vendor. It will require a virtually complete HSPD-12 environment including sponsorship, enrollment, adjudication, issuance, activation, and credential use. Mr. Duncan adds, "the card they give us prior to award will go through the GSA test lab to make sure it passes all the (tests) that NIST provided."
There are 18 companies listed on Schedule 70 SIN 132-62, the GSA approved list from which the winning bidder must come. These companies include: Accenture LLP, Accenture National Security Service, ADT, Anteon, BearingPoint, Centech Group, Communications Resource (CRI), CondorTech Services, EDS, ElectroSoft, Jacob & Sundstrom, Lockheed Martin, Maximus, Open System Sciences of Virginia, Operational Research Consultants, Probaris Technologies, SI International, and XTEC.
Issuance is key
The MSO will begin deploying issuance stations in Washington D.C.-– two stations per week for four weeks. The national rollout will eventually result in 225 enrollment stations across the country–200 fixed stations and 25 mobile stations.
"We use centralized printing approach," says Mr. Duncan, "so we are looking for someone who really understands pre-issuance and post-issuance security."
With a significant percentage of agencies relying on this single source for PIV cards and services, this is an understatement.

Compare FIPS 201 Products
Research and evaluate FIPS 201 Approved Products and get the latest info on compliant credentialing systems at FIPS201.com.
Click to visit FIPS201.com
.