GuardRFID ships out one-year umbilical tag for TotGuard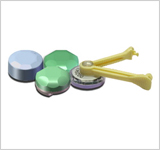 GuardRFID Solutions is shipping its new one-year reusable umbilical tag for use with the TotGuard Infant Security system.
TotGuard is an RFID-based locating system that is used to monitor newborn patients. It consists of small dual-tamper sensing tags that feature customizable alerts and alarms to provide enhanced infant security. They are also disposable to alleviate biohazard concerns.
The new TotGuard one-year umbilical tag weighs just under 6.5 g and the ergonomic design makes is comfortable, adding only a small amount of weight to the umbilical clamp. The earlier TotGuard tags, the single-use disposable and three-month umbilical versions, weigh less than 5 g.
GuardRFID health care solutions support an entire family of tags, including ankle/wristband tags, and allow customers to implement multiple applications under the same infrastructure. The small, disposable active tags, which are easy to apply to the tiniest of infants gives the confidence that the most vulnerable patients are safe and sound where they are supposed to be.