Hardware authentication will aid online banking transactions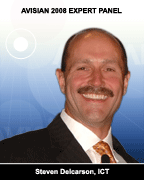 Steven R. Delcarson,
CEO and President,
Innovative Card Technologies
Electronic fraud and identity theft are serious, sophisticated problems that have received a lot of media, governmental, and public attention the past several years. Consumers and their governments are demanding tougher identification technology in financial transactions to combat the risk of fraud.
ID technology is expensive, there are myriad options, and financial institutions, especially in the U.S., have for years taken the "wait and see" approach–waiting for clarifying regulations and for the emerging identity technology market to mature.
In the meantime, they have largely been covering consumer losses due to financial transaction fraud. However, spurred on by the FFIEC (Federal Financial Institutions Examination Council) ruling in the U.S. last year recommending strong authentication systems for online banking and by public clamor for tougher financial transaction security, banks are taking action to protect their customers.
According to a recent TowerGroup report, 80% of U.S. banks are in compliance with FFIEC guidelines, with most of those adopting multi-factor authentication methods for online banking. Most banks have adopted cost-effective software-based solutions such as security cookies, behavior analytics, and challenge-response questions–the minimum for online banking security.
For high net-worth users, some banks have taken a step toward deploying or testing hardware solutions such as one-time pass codes and smart cards. These solutions offer several advantages: they are out-of-band and thus not hackable; they offer stronger authentication than software solutions alone; and through these solutions, banks can differentiate their products from other institutions.
I believe that hardware security solutions are the next evolution of financial authentication. The banking market is fiercely competitive, and the value of security solutions in satisfying consumer demand, as well as enhancing the security credentials of the adopting financial institution, is very high.
Banks want to keep their customers confident in online channels, which are the most cost-effective administration method for banks. In order to do that, they need to offer a security product that is user-friendly, promotes the bank brand, and inspires trust in online channels. In order to be adopted by top financial institutions, the product must be of the highest quality–the bank is staking its name and reputation on the product – and must contain a proven authentication technology.
My prediction for the next five years is that hardware authentication options will flourish in the online banking industry, beginning in 2008. As a result, more and more once-reluctant customers will use online banking as opposed to traditional brick-and-mortar channels. Banks will save on administration costs while consumers will be confident their transactions are being handled securely.
---
About the AVISIAN Publishing Expert Panel
At the close of each year, AVISIAN Publishing's editorial team selects a group of key leaders from various sectors of the ID technology market to serve as Expert Panelists. Each individual is asked to share their unique insight into what lies ahead. During the month of December, these panelist's predictions are published daily at the appropriate title within the AVISIAN suite of ID technology publications: SecureIDNews.com, ContactlessNews.com, CR80News.com, RFIDNews.org, FIPS201.com, NFCNews.com, ThirdFactor.com, and DigitalIDNews.com.