Hellmuth & Johnson deploys FileTrail's RFID records solution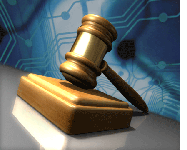 Hellmuth & Johnson PLLC, a law firm based in Minnesota, has selected FileTrail's RFID records management solution to organize, track and locate the law firms' legal files.
Prior to the FileTrail system, Hellmuth & Johnson had no electronic system for tracking and locating files. Instead, files were organized alphabetically. Often times this made it difficult to find files and sometimes resulted in a file being misplaced. As a result staff would spend hours searching for files rather than performing other productive work.
And the FileTrail solution does more than just track files for Hellmuth & Johnson. It also enables staff to view how many volumes each folder contains. FileTrail keeps a history of who has checked a file out, improving efficiency and thus saving the firm money.
Beyond the initial tracking staff can locate lost files using the FileTrail RFID reader. RFID tags added to all of the firm's files streamline business processes, and help locate circulating files that are urgently needed. As a result deadlines are no longer missed due to misplaced files.