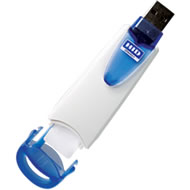 HID Global has released a new USB reader that combines flash memory with contactless smart card technology.
The OMNIKEY 6221 features a removable MicroSD flash memory slot and reader for SIM-sized contactless smart cards.
The 3.7 inch x 1.02 inch device supports up to 32GB of flexible memory and uses encryption and digital signatures in conjunction with PIN protection to keep data secure.
The 6221 is based on the same technology and drivers as the OMNIKEY's desktop, making it easy to integrate into existing OMNIKEY applications, says the company.
The reader is designed to meet all major standards, including ISO 7816, Microsoft WHQL, USB CCID, PC/SC, HBCI (Home Banking Computer Interface) and the PC-2001 specification.