HID launches new monochrome printer/encoder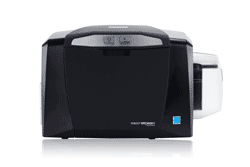 Secure identity provider HID Global has expanded its card printer and encoder line with the launch of the Fargo DTC1000M Monochrome Printer/Encoder that provides organizations with a printer that's cost-effective to own and operate.
Dan DeFore, HID's director of product marketing, said that this entry-level printer can meet a customer's card issuance needs with a range of cost-effective card printer/encoder options, including card issuance supplies and issuance software solutions.
The DTC1000M prints a single-color, edge-to-edge image on one side of a standard CR-80 or CR-79 identification card. The resin thermal transfer process makes for a clear reproduction of photo images, bar codes and alphanumeric data. Ribbon options include standard or premium black, or a choice of green, blue, red, white, silver or gold.
The DTC1000M connects via USB or optional Ethernet port and the embedded Swift ID application enables users to start printing cards immediately with no software licensing cost. For magnetic stripe cards, an optional module enables inline, one-step encoding and card printing.
The printer is good for organizations such as casinos, financial services firms, governments, retailers and small or medium-sized businesses who issue badges requiring only monochrome printing. Additionally, an erase-and-rewrite printing option makes it easy to print visitor badges and temporary worker IDs.