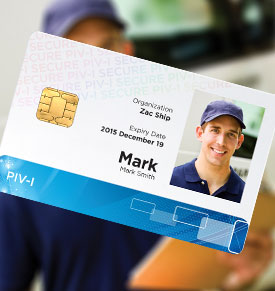 HID Global introduced a service to supply PIV-I credentials to U.S. federal contractors. The new service will enable contractors to go online and walk them through the entire PIV-I issuance process, including in-person vetting as well, says Brad Jarvis, vice president of product marketing at HID Global.
Contractors can start the process by visiting HID's PIV-I site. From there an administrator will begin the the PIV-I process and registration. Since a contractor must be present for part of the registration there is an in-person component to the registration. HID will have offices in different area of the country at different time to help with this aspect of the program.
"People also have the ability to tell us they're interested in PIV-I and we'll let them know when we're in the area," Jarvis says.
HID Global has completed all of the policy compliance and interoperability testing that is required to cross-certify its PIV-I Service through CertiPath, the government partner responsible for testing PIV-I credentials used for physical and logical access in collaboration with the Federal Public Key Infrastructure (FPKI) Policy Authority. CertiPath's approval provides validation that the PIV-I Service meets rigorous standards and is cross-certified to the U.S. Federal Bridge according to PIV-I standards.
The HID Global PIV-I Service offering will be managed through subsidiary ActivIdentity. "We've seen a lot of demand from contractors who need to have cross reference to the Federal Bridge," Jarvis explains.
HID has been working with the U.S. Army Reserve to supply contractors with credentials so they can securely access unmanned sites, Jarvis says.