HID secures network access for more than 85,000 U.S. government employees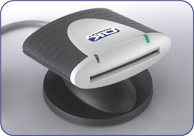 HID Global announced it has secured an 85,000-unit order from a major U.S. government agency for the company's OMNIKEY contact smart card readers for network authentication. The OMNIKEY solutions include both contactless and contact-based readers for use with desktop and mobile devices.
HID will provide 85,000 of its OMNIKEY USB contact-based smart-card readers that will be used in conjunction with an individual's identity card, which incorporates a contact smart card module to authenticate the user during network logon. The OMNIKEY readers support the U.S. Federal Government's smart card program, including PIV cards that are mandated by HSPD-12, and the CAC credential.
This order follows a series of major HID acquisitions and investments in product expansion for the company's growing government business. It also re-asserts HID and its ability to deliver comprehensive physical access, logical access and government-issued ID offerings for meeting federal agency compliance, budget, feature and reliability requirements.
With acquisitions of ActivIdentity and LaserCard, HID now offers a broad security product portfolio including RFID cards and readers used for physical access, as well as smart cards, readers and middleware used for secure identity assurance and network authentication, plus secure card printing and issuance solutions.