Hirsch Electronics biometric scanner OK'd by TSA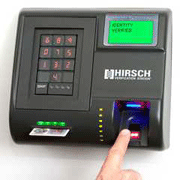 Hirsch Electronics, Santa Ana, Calif., announced that its Verification Station's biometric technology passed the Transportation Security Administration's testing and was placed on the agency's Qualified Products List.
The Verification Station delivers four authentication factors: card, code, fingerprint and PKI certificate check. It also enables four applications: verify claimed identities, control access, encode smart cards, and enroll cardholders in access control system.
The biometrics in the Hirsch Verification Station passed the TSA tests including requirements for a failure-to-enroll rate less than 3 percent and a 99.86% operational availability rate. TSA's test required a false rejection rate of less than 1%; the scanners FRR is just 0.01% – 0.001%. TSA's test required a false acceptance rate of less than 1 percent; its biometric FAR is 0.01% – 0.0001%. TSA's test required a transaction time of less than six seconds; the RUU biometric extraction and ID time is 1.5 seconds.
Hirsch developed the Verification Station in conjunction with Cogent Systems, South Pasadena, Calif.