Home RFID pioneer Violet files for bankruptcy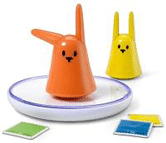 Violet, the French company behind the RFID Mirror, the world's first RFID reader designed exclusively for home use, is boxing up its trademark bunnies and filing for bankruptcy, according to engadget.com.
Violet first introduced RFID into American homes with Nabaztag, their "mutlipurpose interconnected rabbit." The Nabaztag is indeed shaped like a bunny. It talks, moves its ears, and responds to voice commands (when prompted it will tell you the time, the weather, headlines, etc.).
In 2008 Violet released the updated Nabaztag/tag. This bunny interacts with RFID labels ("ztamps") that the user affixes to various objects to elicit a pre-defined response from the Nabaztag/tag. For example, you can take a tag encoded to give weather updates and apply it to your coffee mug. Passing the mug under the bunny's nose will prompt it to read you the weather forecast.
Next came the Violet RFID Mirror in April 2009. The Mirror is really a multi-purpose RFID reader in the form of a small circular platform that hooks up to a computer via a USB port. It also comes with a number of "ztamps" that operate under the same concept, connecting all tagged objects to the internet.
The user programs a stamp by waving it over the reader for activation. The user then goes to Violet's Web site, names the stamp, and chooses and assigns a desired action. For example, you could program a tag to bring up your bank statement and affix it to your wallet, or tag your keys and have it bring up a traffic report.
The stamps come with their own email address, so users can send messages directly to their objects. For example, if you want to remind your spouse to pick up a few things from the store, you could send a list directly to their shopping bag. The list will come up on the computer screen when the bag is passed over the reader.
The Violet RFID Mirror marked the first real attempt by a company to integrate RFID technology into daily life. It was perhaps too much too soon to take off as it should have, but look for more home-geared RFID products in the future, bunny-shaped or not.
Read more here