Hospital smart room links patients, staff and medical devices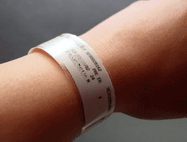 Hosted by the RFID and Healthcare Consortium at the HIMSS11 annual meeting, a hospital smart room was featured leveraging the power of RFID technology to optimize medical device connectivity and deliver improvements in patient safety, reports Cardiovascular Business.
The smart room centers on a design to improve distribution of patient information by integrating real-time data from patient, staff, device and medication RFID tags. This integrated technology also enables monitoring of real time and missed or bypassed activities to enhance patient safety.
Two scenarios were also demonstrated.
A high acuity patient with Type 2 diabetes. A nurse receives a message via VoIP, alerting her that a patient's lab value had exceeded the critical value. She then retrieves medication from an RFID-equipped supply cabinet, but not before scanning both the patient's wristband and drug to verify that the right drug goes to the right patient.

A mother and her newborn. The newborn infant's RFID tag is linked to the mother's, enabling an alert if the baby is placed with the wrong mother or an unauthorized person attempts to move the baby from the mother's room.
Technologies utilized in the prototype included: Ruckless' wireless technology, Hill-Rom's Smart Bed and Nurse Call systems, GE Healthcare's Physiological monitoring system, Patient Safe medication administration and nursing intervention systems, Visonic Technologies' mother-baby matching system, and Wavemark's Supply Chain Management technology.
To read the original release click here.