How 100+ companies came together to hammer out Gen 2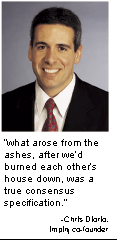 Back-room alliances, sleepless nights and billions at stake
(This article originally ran in the May 2005 issue of RFIDOperations)
By Dann Anthony Maurno, Contributing Editor RFIDOperations
Until Sept. 10, 2003, the Massachusetts Institute of Technology had been nurturing the technology called Radio Frequency Identification. MIT's Auto ID Center was a coalition of nearly 100 companies and five research universities, a sort of "Continental Congress" that included Wal-Mart, Gillette, and RFID technology suppliers. On this September day however, at an Auto ID Extraordinary General Assembly meeting in Brussels, Belgium, the impending handoff to a new organization was announced to its key members. EPC Global was born officially, on October 31 (2003) and the six Auto ID Centers were renamed Auto-ID Laboratories. RFID was going "prime time."
EPC Global immediately organized itself into three working groups – the Business Action Group (BAG), largely of end users, the Software Action Group (SAG), and Hardware Action Group (HAG). HAG was chartered to develop element and interface standards for readers, tags and other hardware components of an EPC Global Network. The HAG would define global hardware standards across all industries. HAG formed a UHF Gen2 working group to devise a next-generation tag to meet the requirements of BAG.
The Next Generation
The Auto ID Center had set a goal to create a unified set of standards prior to that handoff to supersede those currently in use. The Class 0 and Class 1 standards were largely Matrics and Alien technology respectively, and not interoperable. "We didn't call Class 1 an Alien spec," said Intelleflex CEO Roger Stewart who was active in Auto ID and, later, HAG, "but that's pretty much what it was."
Between July and September 2003, RFID vendors and other interested parties met four times to hammer out the new specification, tentatively called "Class 1 Generation 2" or C1G2. Their charter:
Meet higher standards of user requirements than Class 0 or 1, e.g., for read rates;
Meet global regulatory requirements (which differ in frequency, channelization, etc);
Achieve true interoperability, with multiple sources of technology in an open environment; and
Create a pathway to lower-cost technology.
C1G2 meetings averaged thirty delegates, with one or two delegates each from such companies as Impinj, Alien, Matrics, Savi, Rafsec, and the closely-allied Philips Semiconductor and Intermec. (Intermec had a licensing arrangement with Philips on ISO 18000-6B and Intellitag 2 products.) Philips and Intermec would field no less than two people each at these and future development meetings, as did Impinj and Alien. The most consistent and diligent participants were Steve Smith of Alien Technologies, Impinj co-founder Chris Diorio, and Intermec's Chief Engineer Harley Heinrich and Chief Technologist Rene Martinez. Dan Engels of Auto ID Laboratories acted as an intermediary, and co-chaired with Diorio.
Alien, on whose technology the Class 1 standard was based, resisted C1G2. In its two-page Observations on EPC Class 1 Generation 2 Status, Alien called for greater participation by end-user companies, few of whom had taken part in creating C1G2. Alien warned end users about "significant shortcomings" in interoperability, costs and intellectual property.
The IP Question
EPC Global issued a stop-work order on C1G2, largely because of the lack of an IP policy. Between September 2003 and February 2004, EPC Global hammered out its standards development process, including IP policy, largely with attorneys representing member companies. Diorio of Impinj recalls, "One person from Matrics and I were the only engineers on that committee. The rest were attorneys, and one guy asked what law school I went to."
With an IP policy in place, EPC Global held its kickoff meeting in February of 2004 in Newark, California. They announced the policy and authorized C1G2 to begin anew. But the momentum of the prior September was gone, and the meeting turned contentious: member companies complained that the prior C1G2 efforts might unfairly benefit companies which had participated most actively in the early creation of C1G2.
So the HAG membership voted to hold what it nicknamed a "bakeoff." This would be a conclusive meeting where interested parties would meet and show what they cooked up to meet the C1G2 goal. The winning proposal would be decided by a 2/3 vote of the HAG.
The Bakeoff
Not everyone was keen on the idea, particularly those like Diorio of Impinj who had been involved in standards generation: such a process, they felt, would lengthen the time considerably. "And from a practical point," said Diorio, "it encourages competition versus cooperation." Likely too, a "losing" team of companies would be unrepresented.
"Absolutely, there was lobbying," said Mike Guillory, a consultant who at the time was Director of Standards with Intermec. "That was set up by the rules of EPC Global, they turned this into a balloting process, as opposed to a consensus based process.
"And bear in mind that a lot of HAG members were users or interested parties," such as Wal-Mart and Gillette, he added, "but not radio engineers or technologists. So yes, there was a lot of lobbying to ensure the voting body was as well informed as possible."
Four teams submitted proposals to their fellows in Anaheim in May 2004. These teams included –
Unified Group, which included AWID, Intermec, Impinj, Intelleflex, Mead/Westvaco, Philips Semiconductor, Rafsec, QED Systems, SAMSys, SAVI, SIRIT, Texas Instruments and Zebra – many of whom had participated actively to create C1G2.
Performance Group, unofficially nicknamed "The European Standard," which included RFIP Solutions, EM Microelectronic, Atmel, and Nanopower.
Flexworks, backed by Matrics and Atmel (Atmel participated in both Performance and Flexworks). Flexworks withdrew its proposal prior to May, merging with Performance.
Q+, which included Alien, Tyco, WJ, Toray, STMicroelectronics.
Conspicuously absent from the four teams was Symbol Technologies, an otherwise active HAG participant. Symbol was in acquisition talks with Matrics, which it would announce two months later on July 29.
Because the winning specification would be decided by a popular vote, the meeting turned largely political. Intermec and Alien in particular lobbied hard. Said one HAG member, who asked not to be identified, "I got campaign calls from a couple of different companies asking, 'Do you have any questions on the spec we put forward? We'd really like to secure your support,' basically campaigning for their particular submissions. Each had IP involved in their specs, so it was in their best interest to end up on top." Said another member about Intermec, "The message I got was a veiled threat, 'if this doesn't go our way… we'll use our IP position to make it expensive.'" Even as the lobbying was taking place, some felt the incumbents (Alien and Matrics), who were already shipping Gen 1 products, took every opportunity to delay.
"Of course it was political," said Alan Melling, Symbol's Sr. Director of EPC Solutions. "Any standard-setting process involves vigorous debate, and it's natural to develop positions and try to convince others. It's a necessary and desirable part of the process."
"You could see what the factions were by who was sitting together," said Louis Sirico, a HAG member and roving editor of RFID Operations magazine. A fourth faction emerged of end users, including Richard Ulrich of Wal-Mart, Richard Andell of Target, and Steve Rehling of Procter & Gamble, who looked to Sirico as a de facto translator.
Unified, with 13 companies of the magnitude of Intermec and Philips, was looking more and more like a winner – owing not only to its heavyweight membership, but to the completeness and rigor of the specification. Performance, the "European Spec" and Unified teams, were urged to work towards a merger, and in a series of fractious meetings, created a merged standard that incorporated ideas from now 18 companies.
The Unified/Flexworks/Performance group renamed itself the "Global" group to reflect global unity. Of its 17 member companies, several had declared royalty-free intellectual property, with only Intermec declaring "half royalty-free, half RAND." The Q+ group of Alien, Tyco, WJ, Toray, STMicroelectronics renamed itself the "Freedom Group," supposedly based on being IP free, however, Alien declared eight patents which they would offer on a RAND basis. Symbol Technologies, which sat out the bakeoff, joined Freedom, as did Matrics, which jumped ship from the Performance/Unified merger.
Also at the Anaheim meeting, the EPC Global board of governors voted to discontinue work on requirements for certifying Class 0 and Class 1 tags. The message to HAG seemed clear: Class 0 and 1 were largely Matrics and Alien Technology, that would be replaced by Gen2. The new specification would truly be global in scope, and represent the membership fairly.
The Anaheim conference ended without a vote, but with the field of players narrowed considerably.
The Chicago Protocol – "Enough is enough."
With no vote taken, the mood of those end users – which had been tense in Anaheim – turned sour. Procter & Gamble and Gillette, among others, pressured HAG to get the job done. Sue Hutchinson, EPC Global's HAG facilitator, approached Freedom and Global with the idea of negotiations – thus, HAG moved from a vote to a consensus approach after all.
The following eight weeks, ending in early July 2004, were a grueling series of 16-hour teleconferences and weekly meetings centering around Chicago. Representatives flew in from as far as Korea and home again for the weekend. Said Chris Turner, then Chief Technical Officer of RFIP and a member of the Global Team: "I had almost no sleep and spent half my time on an airplane. The whole process was very intensive, very tense, and with an awful lot of lobbying still going on," from both teams.
Global still had the greater voting power, and Freedom conceded, contingent upon a small set of changes. After four weeks, HAG arrived at "The Chicago Protocol." This single specification was broadly based on the Performance and Unified proposals, with elements of the Alien-backed Q+ proposal yet to be included.
Said Diorio, "Now that we were down to one team, you'd think we were done! But there was a small group of us, including myself and Steve Smith of Alien and Jeff Fisher from Reva, who thought, 'This has been so merged, God knows what we've got.'" Turner characterized the merged specification as "a real camel – 'a horse designed by committee.'" What followed was a two-week marathon of fairly harmonious technical discussions, including Diorio, Turner, Fisher of Reva Systems acting as moderator, and Smith of Alien among others, ending the first week of July.
Says Diorio "What arose from the ashes, after we'd burned each other's houses down, was a true consensus specification. We identified the problems in the merged Chicago document, tackled them one by one, and together developed a final Gen 2 specification that is a technological powerhouse" of 94 single-spaced, technology-dense, hard-won pages.
Did politics win over technology?
Said Symbol's Alan Melling, "The politics might be more intense than some of the members could understand, but vigorous debate is a hallmark of standards making bodies. Sometimes it's cordial and sometimes it's rancorous – if everyone agreed on a standard there'd be little need for a standard setting body or process."
Said Impinj's Diorio, "Any time you write a spec, nobody gets everything they want. But I don't think anyone can justifiably claim the standard was owned or driven by any particular company. Rather, every company and every individual contributed their ideas, and we took the best of the best.
"It is also true that few of us, me included, have a background in standards, and knew how to write a document that held up as a standard – all those 'shall' and 'shall not's' that make a requirement. So yes, some of us were involved all along, and a few people pointed fingers at me that I drove the process with an iron first, which is probably true. But in some sense, you just have to drive it hard, or it'll never get done."
"In the end," said Guillory, "it is truly a properly designed standard that we can submit to ISO and it looks like a real spec, and they can adopt with no changes."
An open ISO approach, versus the bakeoff, might have staunched the criticism. "ISO is open and transparent, while HAG was a closed group," observed Chris Turner, "which opened the way for shenanigans. If EPC could have done something better, it would have been allowing proper peer review versus a closed group presenting a fait accompli."
"A bake-off implies a winner and some losers," said Craig Harmon, President of QED Systems. Harmon is a veteran of standards development, having served on more than 25 ISO and ANSI committees. "HAG members …realized that after the demonstrations, everyone would have to vote and the losers would walk away with nothing. Consequently, hammering out some of the differences to advance the Chicago protocol, the one that was eventually submitted to ISO, had more appeal."
Guillory believes the finished spec reflected all contributions, "But for some companies, not as much as they wanted. Some of their contributions added no value but to delay the standard from being realized. That's what happens when other motives exist than moving the technology forward."
An imperfect process may have created an imperfect standard, but imperfection is inherent to any standard – hence, amendment and revision. "I'm hearing people starting to talk about Gen 3," said Harmon, and given the effort that has gone into Gen 2, "it scares the heck out of me."
"If, this next time around, we do nothing else from a technology perspective, we should come up with harmonized frequencies or spectra. It's possible. For example, only in the past two years do we have cell phones that work in the US and in Europe, but there isn't one that works in the US, Europe, Korea and Japan. We need harmonized radio regulations."