HP reveals desktop PC with NFC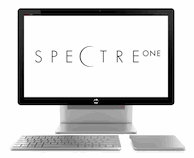 HP has unveiled an NFC-enabled desktop PC – the SpectreONE AiO.
The all-in-one PC runs on Windows 8 and features a 23.6-inch flush-glass full HD display integrated into a slim 11.5 millimeter-thin body, which houses, among the other components, the latest Intel processor and a NVIDIA 1GB graphics card.
The SpectreOne also comes with a wireless keyboard and trackpad with multi-touch capabilities, as well as HP's TouchZone NFC technology, which enables users to simply tap a smart phone or NFC tag on the base of the SpectreONE to instantly transfer content or log-in to the PC.
HP has also included Beats Audio, Adobe Photoshop Elements 10 and Adobe Premiere Elements 10 with the SpectreOne, along wtih an HP TrueVision HD webcam and the new HP Connected Remote, HP Connected Photo and HP Connected Music programs.
The HP SpectreOne is expected to be available in the U.S. this November at a starting price of $1,299.
Check out the full list of features here.