HTC's Droid Incredible 4G LTE debuts on Verizon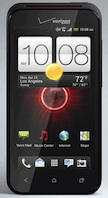 Verizon Wireless and HTC have launched a new NFC-enabled handset, the Droid Incredible 4G LTE.
Powered by Android 4.0 Ice Cream Sandwich, the phone features a 4-inch super LCD qHD display, 8 megapixel rear-facing camera, 1.2 GHz dual-core Qualcomm Snapdragon S4 processor and built-in NFC connectivity.
Since the Droid Incredible runs on Android 4.0, users will be able to leverage its NFC capabilities to share photos, videos, contacts and other data via Android Beam.
Other features include Beats Audio for improved audio quality and Video Pic, which allows users to shoot HD video and take pictures at the same time.
According to Verizon, the handset should be available in the U.S. within the next few weeks.