HUAYUAN releases new tag for apparel industry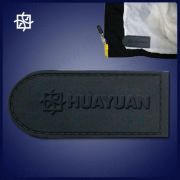 Shanghai RFID manufacturer HUAYUAN has announced the release of their new Skateboard tag, designed specifically for the RFID-happy apparel industry.
The Skateboard tag, which derives its name from its unique shape, is a Gen 2 EPC compliant passive RFID tag that features a global frequency range of 860-960 Khz. The Skateboard tag is also made to resist temperatures reaching 100 C, making it viable for use in laundry service.
According to HUAYUAN, the soft but durable outer shell allows garment manufacturers the option of sewing the tag directly onto their products, and if desired the Skateboard tag can come embossed with the customer's logo.