Hypercom terminal accepts contactless payments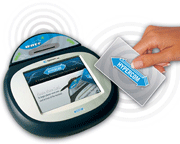 Contactless payment acceptance and multiapplication support are among the strenghts being touted by Hypercom's new Optimum L4100 POS terminal. According to Pete Schuddekopf, Hypercom's VP Media and Analyst Relations, the L4100 can accept both ISO 14443 Type A and B contactless technologies and initial, though undisclosed, customers are currently using the device in the field.
Hypercom Showcasing Newest Multi-Application Payment Technology at NRF
High Speed, Easy-Use Technology Speeds Check-Out Lines, Boosts Profit Lines, Helps Redefine Retail
Shorter lines and faster service are coming to large department stores, supermarkets and thousands of smaller multi-lane retail chains thanks to global payment technology leader Hypercom Corporation's (NYSE: HYC) fast, easy-use card payment technology. The increasingly in-demand technology – including the latest high speed, contactless Optimum L4100 multi-application signature capture card payment terminal with integrated RF reader – will be demonstrated to hundreds of nationally-recognized retailers at the National Retail Federation Annual Convention and EXPO, January 17-18 in New York.
Retailers ranging from large department stores and supermarkets to thousands of smaller multi-lane chain operators will see first-hand Hypercom's sleek, compact, high speed and high performance Optimum L4100 card payment terminal packing a powerful 32-bit Intel® processor to deliver unprecedented multi-application performance and speed. The innovative Optimum L4100 helps larger retailers boost services, revenues and profits, bringing to the check-out lane a powerful combination of credit/debit card authorization and value-added services such as electronic signature capture, prepaid cards, loyalty cards, age and/or ID verification and more – faster than ever before.
Hypercom (www.hypercom.com): helping to redefine retail. Booth 1452, Hall B, Jacob Javits Center, January 17 – 18.