Hypercom terminal approved for German health ID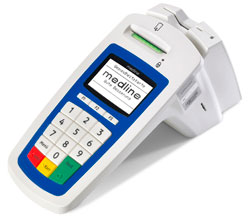 Hypercom Corp. announced that its medCompact healthcare terminal has received e-Health Basic Command Set approval from Gematik, the German health care organization.
Starting next month, the device will be available in volumes as part of the introduction of the country's new health card. Germany's e-Health card program has a planned deployment of more than 80 million electronic health insurance cards.
Hypercom's medCompact is designed to process both the current German health insurance card and the new electronic health care card. The terminal complies with the upcoming e-Health (SICCT3) standard and can easily be connected to medical practitioner, hospital and pharmaceutical IT systems.
In addition to accepting patient cards, the terminal accommodates up to eight different medical practitioner cards, making it well suited to environments where several health care professionals operate in the same location.