IATA chooses three tag suppliers for airline baggage tagging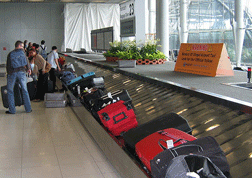 The International Air Transport Association (IATA), a global organization of 230 airlines, has chosen three RFID tag providers that meet the operational requirements of an airline baggage tagging proposal.
The three tag providers are UPM Raflatac, Alien Technology and Avery Dennison. IATA put each tag through processes typical to the airline industry including baggage sorting, reconciliation and check-in. All tests were carried out at real sites using existing RFID infrastructure including readers and printers.
UPM Raflatac's tags are already in use as part of an entirely RFID-based baggage-handling system at Portugal's Lisbon Airport. The Airport reports that the RFID system reduces the average time to process a transfer bag by at least 66% and baggage-handling errors by as much as 50%
IATA's next move is to offer its proposal to aviation industry partners.