IC-TAG Solutions launches RFID offerings to the health care industry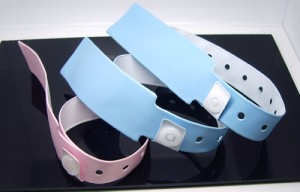 IC-TAG Solutions, Inc. announced its latest in RFID offerings to the health care industry including new RFID wristbands and new RFID labels for tracking patients and blood bank bags.
The company's RFID wristbands, called IC-BANDs, are designed for one-time use with a self-adhesive closure that ensures the band stays firmly on the patient's wrist. The IC-TAG wristbands can be combined with inlays from Alien, Avery Dennison, or UPM; and support applications such as tracking patient information, admissions and asset tracking.
Another featured products is IC-TAG's high frequency RFID label for blood bank bags. The label is ideal for identifying contents of blood and saline bags. There is no ribbon required due to its heat-sensitive characteristic, allowing for clean and durable solution that is resistant to most hospital chemicals such as alcohol, soap, and bodily fluids.
It comes with a functional design that has a printable area for patient information. The RFID labels are designed for use in most thermal transfer printers and are fully printable with bar codes and text.