Identity Stronghold hits 1 Million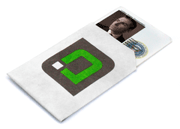 Consumer concern over the security of their contactless smart card-enabled IDs and credit cards may be growing. That is one explanation for the news from security product maker Identity Stronghold that the company has shipped its one-millionth contactless smart card security product as of June 2008.
Identity Stronghold produces products designed to protect credit cards, passports, ID cards, transit cards, RFID entry badges from the potential threat of being scanned at a distance by identity thieves. According to one study, identity theft of all types cost U.S. consumers $49.3 billion in 2007.
The company also points to another scourge of modern life, reality TV, as an aid to its sales. In 2007, Identity Stronghold gained some publicity when the show "Tiger Team" on the former CourtTV network, demonstrated how one of the company's devices, the Secure Sleeve, could have helped foil a jewelry heist.
Read more here.