Identive's tomPAY NFC sticker to be used at Olympics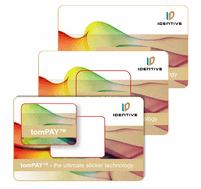 Identive Group announced that its tomPAY NFC tag technology is being deployed at hospitality events at the London 2012 Olympics.
Identive's tomPAY solution can be used as conventional contactless payment card or the NFC tag portion can be peeled off and affixed to a mobile phone to make contactless payments, redeem loyalty points and more. The solution, which also supports EMV payments, is based on Identive's "tom" (tag on metal) technology, which addresses the interference issues inherent to RFID performance when in contact with metal surfaces.