Idesco launches touch screen terminal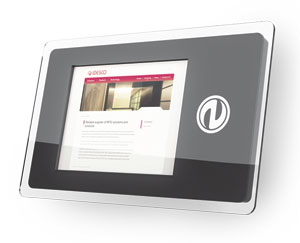 Idesco has announced the Access Touch touch screen terminal, featuring an integrated computer with an internal RFID reader. The touch screen device can be used as a standalone unit without being connected to another system or it can be integrated with other Idesco reader devices as the control unit of a completely wireless access control system.
Access Touch operates with Linux or Windows operating systems and offers the same possibilities for processing data as a traditional PC. The integrated RFID reader makes the device the first step in building a versatile identification, tracking, vending or access control systems. Possible uses include tracking attendance and payments, alarm control and a number of custom applications.
The device also features a Scandinavian-influenced design and a logo design area under the front panel that can be customized with customer-specific logos and color themes.