idOnDemand unveils NFC-enabled OTP solution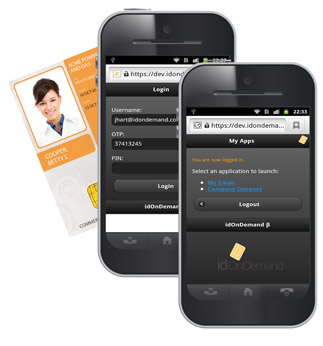 idOnDemand has introduced a One-Time Password (OTP) mobility solution using a contactless smart card and near field communication-enabled mobile phones.
With the idOnDemand SmartID mobile technology users touch their idOnDemand Personal Identity Verification (PIV) compatible corporate ID to facilitate a secure login from their NFC-enabled tablet computer, smart phone or hand-held mobile phone.
Users touch the card to an NFC device, select the Web site they want to access and then enter an optional PIN in order to access the restricted site from the tablet or smart phone. idOnDemand SmartIDs can be used with any OATH compliant authentication server or managed authentication service.
idOnDemand says its solution is more secure than OTP application that users can download because the keys can't be copied like a soft token and a lost device does not result in lost keys and token. This application is designed to work with NFC handsets out of the box, no additional applications needed, says an idOnDemand spokesperson.