iDTRONIC releases new handheld Terminal Fox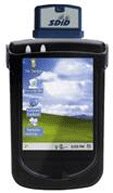 iDTRONIC, a supplier of RFID hardware, has announced the release of its RFID Terminal Fox, a new mobile RFID handheld terminal.
The 140 gram Terminal Fox is designed like a PDA and comes with USB + WiFi interfaces that allow it to communicate with a variety of devices including laptops and PC's. The device features a 300MHz ARM9 32bit processor and a 2.8 " color LCD touch screen and operates using Windows CE 5.0 professional edition.
An SDIO slot on top of the Fox allows for quick installation of a LF or HF SDID Reader, granting it the ability to work in a variety of contexts such as contactless E-ticket reading, cashless payment, healthcare, event management and access control applications, according to iDTRONIC.