ImageWare acquires patents, provides biometric port security in Ecuador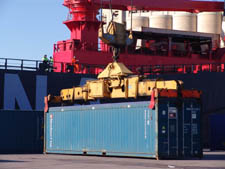 Biometric security provider ImageWare Systems Inc. has acquired four U.S. patents relating to wireless technology and is also rolling out biometric security services at Ecuador's main seaport.
The patents, purchased from a private company, will help ImageWare develop interactive mobile applications that can be secured through biometric technology. They will enable ImageWare to enter the wireless space for industries like health care and law enforcement that require reliable and flexible user identification.
The patents cover a method for exchanging content-rich interactive messages through wireless devices. The method includes interactive workflow and collaboration among recipients.
ImageWare's payment involved a cashless transaction of 150,000 warrants to purchase ImageWare common stock, exercisable at $.80 per share, as well as potential future cash royalty payments. Limitations surrounding the exercising of the warrants that are based on performance of products based on this technology were also stipulated in the agreement.
This week, ImageWare also announced that it contracted with the Republic of Ecuador to provide biometric identity management for a main contractor responsible for cargo scanning security implementation at the country's seaports.
Implementation of ImageWare's biometric identity product is scheduled to take place during the fourth quarter of 2012, starting at the Port of Guayaquil, Ecuador's main port for imports and exports. The company will utilize its biometric-based credentialing product in conjunction with Biometric Engine 2.0, its biometric software platform. The system will securely enroll and credential port employees, contractors, vendors and visitors who have access to cargo areas.
This contract will help the country's port authorities meet the requirements of the U.S. Safe Port Act of 2006. The seven-year contract is expected to generate over $3 million.