iMPak launches NFC-enabled heart monitoring app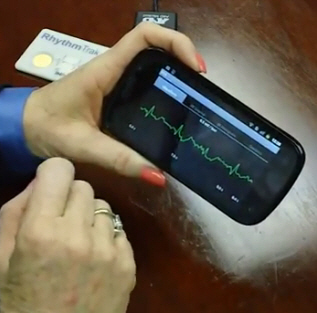 iMPak Health has announced the launch of RhythmTrak, an NFC-enabled mobile application that enables users to track their cardiovascular health at home.
RhythmTrak is a handheld, credit card sized electrocardiogram (ECG) device that both documents heart rates and heart rate variability and calculates intervals and single lead waveforms. Data collected on the device is transmitted wirelessly using a NFC reader or an NFC enabled smart phone or tablet, enabling the user to simply forward the information to their physician.
According to iMPak, RhythmTrak is not intended to be a diagnostic device. Rather, the device should be used to track patient symptoms during the active management of atrial fibrillation, a condition that affects about 2 million Americans.
"It can be incredibly empowering for a patient to have a tool that helps them work with their physician to determine if they may need a change in medication or therapy, especially when it comes to overall heart health," said Sandra Elliott, director of Consumer Technology and Service Development at Meridian Health. "Even patients undergoing ablation, a surgical procedure sometimes used to treat atrial fibrillation may still have symptoms after their procedure. The key is to understand if patients show improvement over time."
RhythmTrak is now available on the Android Platform for both smart phones and tablets for $39.99. iMPak plans to have the application on the iOS platform by the end of the year.