In Win releases RFID-encrypted hard drive enclosure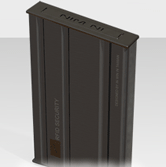 In Win's new Ammo, a 2.5″ mobile hard drive enclosure made to look like a clip for an automatic rifle, features RFID technology to secure the contents of the hard drive it houses.
With the Ammo, users will not need to enter a password to gain access to the hard drive's contents. Instead the Ammo comes with two keys: one made to look like a dog tag in keeping with the military motif—the other, a red plastic key chain.
When the Ammo is locked, a computer recognizes it only as an RFID device; however, when one of the keys is held next to the designated sensor, the hard drive is unlocked and the computer recognizes it as a standard external hard drive.
The Ammo is currently available on-line for $33.
Read more here