InCard puts the OTP on the card itself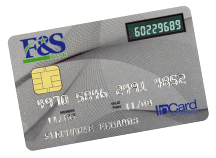 By Andy Williams, Contributing Editor
Innovative Card Technologies (ICT) calls its InCard product "a smarter card." It can do everything a payment, access or ID card can do, while providing the authentication and one-time password functionality usually reserved for tokens. But it didn't start out that way. Originally, the company was making credit cards with an on-board magnifying lens.
Today, the InCard is a one-time password generation card that's ideal for today's two-factor authentication world. The brainchild of Alan Finkelstein, president, founder, and director of ICT, the password-generating card won't hit the market until later this year.
"Normally when you go to your online banking account, you put in your name and static pin number (or password) which could be your dog, all which could be easily compromised," he explained. That process is ripe for online theft and is why the Federal Financial Institutions Examination Council (FFIEC) suggested that all financial institutions implement two-factor authentication.
With the ICT card, dubbed the "InCard," a person would still log on to his online bank, enter his static password, but then he would enter the one-time pass code generated by the card.
The number generated by an InCard is good for just one transaction. "This satisfies dual factor," he said. So even if someone stole the person's ATM card and his ICT DisplayCard, the thief would still be locked out because he would need the person's login name and static password.
The InCard has a small button that's flush with the card. Push it, and a number is generated in a small display on the card.
A back end server identifies the pass code as coming from that particular card. "There's a counter in the chip, and it knows it's been pressed, for example, 6,400 times. If it's really me, the number should be that number," he said. "Depending on how many digits (in the resulting code), 6 to the 10th power, or 8 to the 10th power, you could have a hundred million possibilities" every time the code is generated, he added.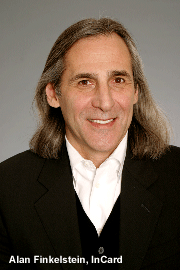 Beginning with a magnifying lens …
As Mr. Finkelstein explained it, he started experimenting with cards in 1993. His original idea was to place a magnifying lens in credit or ATM cards. His intention was that people (such as those who need reading glasses) could more easily examine a restaurant bill with the same card.
"I first had an agreement with one credit card company, then I walked into Chase Bank" to sell it on his LensCard idea. It was, as he later described it, "the luckiest day of my life."
That was when he met John A. Ward, III, who was then CEO of Chase BankCard Services.
"John believed in us enough and while it took us many more years, in 1998 Chase started issuing cards with a magnifying lens."
While Mr. Ward didn't pair up with Mr. Finkelstein right away, "John and I developed not only a professional but a personal relationship," added Mr. Finkelstein.
Mr. Ward later went on to several other jobs, including chairman and CEO of Doral Financial Corporation and Chairman and CEO of the American Express Bank, President of Travelers Cheque Group, before he joined ICT as its chairman in October, 2005. About a year later, he also assumed the role of Chief Executive Officer.
Meanwhile, his LensCard now included a light. It was at that point that Mr. Finkelstein said he "made the difficult decision to stop marketing the LensCard and to figure how to put power into a card." The LensCard is still available, however.
"We first put a battery with a straight circuit to an LED light, but we didn't know where the killer application was," he said. "We developed a chip that could produce sound that could play Jingle Bells or happy birthday." But it wasn't until he saw a key fob that could be used either for generating passwords or as a payment vehicle that he thought he had found the application for which he was searching.
The chip for the ICT DisplayCard was "developed from scratch. There was no chip that would do what needed to be done. That was a major issue. The first barrier we had to overcome was power consumption. Even when they're asleep, they need power to run. We tried to figure out how to miniaturize that and put it in a card form factor and that's how it came about," he said.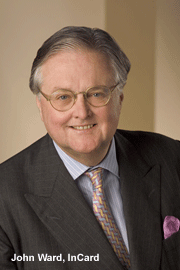 "Alan was the first person to put functionality into a piece of plastic," added Mr. Ward.
"Whether it was luck or the planets were in alignment, when the two-factor authentication suggestions came out from FFIEC, it made it easier to enter the market," said Mr. Finkelstein.
One drawback, if it could be called that, is the card's cost…$12, as compared to the 35 cents or so that it costs to produce a standard credit/debit card. "Where this card would be used the most is with online banking, in certain segments of the market involving sizeable accounts, or with online securities trading," commented Mr. Ward.
"If you break the cost down to a dollar a month, it doesn't sound too expensive," said Mr. Ward. "I will not use a business center in a hotel or WiFi in an airport when I do online banking. For me, I'd be more than willing to pay $1 a month to have that extra level of security." And who knows? Maybe the bank would even absorb the cost of the card, added Mr. Finkelstein.

Manufacturing the InCard
The card itself isn't patented. "Our protection comes with the display, the chip and the process. It's not a general claim with any card generating a one-time pass code. We have a license with a company that has a patented lamination process. The way cards are built today require a lot of heat and a lot of pressure and we also have protection on the chip inside."
Thanks to a relationship with Switzerland-based card manufacturer, NagraID, a high volume production of the ICT DisplayCard is feasible. "They are our strategic partner. We provide the module and they build the card."
"The process is cookie-cutter and hopefully we can produce in much larger volumes when we have to," said Mr. Finkelstein, who expects to sell a million cards over the next 12 months. "We're pretty confident we are going to take away a part of the market share from key fobs."
He said there are currently about 45 million key fobs in circulation and the number is growing dramatically. He believes one of the major advantages the InCard has over key fobs is that "people tend to leave their bulky key fobs in their office or at home and they don't have it when they need to use it." He views the ICT DisplayCard as " a companion card to an ATM or credit card" although it can also serve as the credit/debit card itself.
Major issuers and industry leaders have joined the bandwagon
He said, "major banks in Europe, Latin America, the U.S. and Asia are all in tests (with the InCard). Our test in Latin America even has an EMV chip in it." ActivIdentity, a provider of digital identity assurance solutions, has agreed to sell the card and one of the better known web security companies, VeriSign, has signed on as well.
ActivIdentity's reseller agreement with ICT will get the cards into the e-banking, e-commerce and data access authentication markets. The company plans to offer the card with its 4TRESS Authentication server to facilitate a cross-platform security solution for financial institutions. The result is a customer authentication solution that works for all types of customer transactions (payment, debit, login and transfers) at any point of access (online, ATM, phone).
VeriSign will help companies fortify their online commerce applications with VeriSign Identity Protection (VIP) coupled with the InCard. By integrating the card with VIP, the two companies will add a portable new token form factor to VeriSign's authentication network.
In addition, Inteligensa Group, a Latin American manufacturer of card-based solutions for financial applications, announced earlier this year that it will become a reseller of the ICT DisplayCard, offering it to its 150-200 client financial institutions for one-time pass code authentication. Inteligensa has regional branches in Brazil, Mexico, Colombia and Venezuela, and sells 180 million cards annually, or 35% of all bank cards in Latin America.
While the company appears ready to take off with its new card technology, it remains relatively small with 26 employees. "(Our) proof of process lab in Florida is where we first come up with the concept and built the prototypes (for new card varieties)," Mr. Finkelstein said. "We have a roadmap going out three years. This will be the first of many applications to come."